March 25, 2021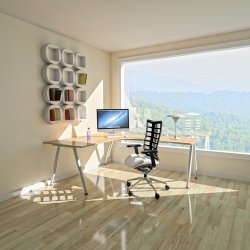 New research by environmental charity Hubbub suggests that workers want to almost double the time they work from home compared to life before COVID-19 arrived – from 35 percent to 63 percent of their working week. However, the increase in household energy use associated with working from home is a cause for concern.
Of the 3,000 UK residents polled, 68 percent of workers have noticed an increase in how much electricity their household has used compared to the same time last year and 54 percent have noticed an increase in gas use. Support from employers appears minimal with only 15 percent of workers saying their employer has contributed money to help them pay their household energy bills. This is a particular concern for younger generations with 3 in 5 workers aged 16-24 agreeing they're worried about the impact of working from home on their household bills.
It's not just people's finances that are feeling the strain from the rise in home-working. Many organisations had made great strides in developing plans to achieve net-zero, but scant regard has been paid to adapting these for a post-Covid world of work. Hubbub's research claims 61 percent of workers agreed they would like to help reduce the environmental impact of working from home.
Only one in five (21 percent) workers agree they are getting support from employers to work and live more sustainably at home and many are left in the dark about their employer's approach to the environment. Just over a quarter (28 percent) of workers said their employer has communicated the organisation's sustainability strategy to them and how they can play a role.
"Younger participants have significantly higher expectations from employers"
Natasha Gammell from Hubbub said: "If businesses are to achieve the ambitious environmental targets they are setting, they need to adapt and update their environmental policies to reflect this new way of working, including how they calculate their carbon emissions. This may mean for example, reporting on energy and water use of employees whilst working from home. This is information that 62 percent of those surveyed agreed they'd be happy to share but only 16 percent have been asked for. Many businesses are saving energy and water in their offices so they're not just under-reporting by not including the energy use of their workforce working from home, they may actually be reporting a false reduction.
"Our polling suggests that younger participants have significantly higher expectations from employers with regard to environmental action than older workers. Businesses that want to attract the next generation of talent need to be on the front foot to meet their justifiable expectations when it comes to responsible environmental behaviour."
Hubbub have identified 5 key actions employers can take to help employees be more sustainable while working from home:
1. Support them to work and live more environmentally sustainably at home (50 percent of employees agree they want their employer to do more to tackle the environmental impact of working from home)
2. Communicate the organisation's sustainability strategy to all employees including how they individually can play a role (37 percent of employees said their employer hadn't done this, but think they should)
3. Provide advice on how to reduce energy bills (1 in 3 employees said their employer hadn't done this, but think they should)
4. Help and encourage staff to change to a green energy tariff (1 in 3 employees said their employer hadn't done this, but think they should)
5. Help reduce water use at home (52 percent of employees reported an increase in water use whilst working from home)
Image by Arek Socha