November 23, 2021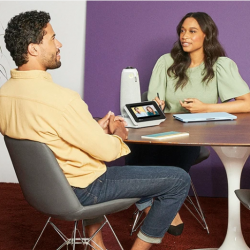 Global Workplace Analytics and Owl Labs, have released the annual State of Remote Work 2021 report. More than 2,000 full-time employees across the United States were surveyed to gain insights into who is still working from home, who has returned to the office. Also pandemic-related job and residential moves and the motivations behind them, dependent care issues, the pros and cons of hybrid communications, employee desire for flexibility, intent to leave a current job, employee productivity, stress and its causes, pet adoption during the pandemic, how office spaces are changing, and much more.
"Adapting to remote work has been the predominant theme for nearly two years, but the theme of 2022 will be adapting to a hybrid workplace and defining what that means for teams," said Frank Weishaupt, CEO of Owl Labs. "Successful businesses are the ones thinking about a long-term hybrid strategy, and developing a new way of working that is productive and effective for both businesses and employees."
The future of work will be hybrid
More than seven in ten employees (71 percent) want a hybrid or remote working style post-pandemic; that includes 34 percent who want to do so full time. The balance (29 percent) wants to be in the office full time. Not surprisingly, those who worked from home during the pandemic are more inclined to want to continue to do so both full-time and at least weekly (42 percent vs. 34 percent want full-time remote, 32 percent vs. 28 percent want to work remotely at least once a week).
The gap between what employees want in terms of flexibility and what their employers are willing to allow has closed substantially since before the pandemic but even now 39 percent of respondents indicated their employer wants them back in the office full-time.
The desire to work from home has not changed much from before the pandemic, "What's different now," said Kate Lister, president of Global Workforce Analytics who co-authored the study, "is that employees feel more empowered to ask for and even demand it."
Employers are underprepared for the hybrid future of work
Employers and employees have seen many benefits with remote work including increased productivity, (90 percent of respondents said they are equally or more productive when working remotely), reduced costs, lower stress, and more. But hybrid working introduces new challenges. While 70 percent of workers say virtual meetings are less stressful than in-person ones, an equal percentage find it difficult to participate in conversations on hybrid video calls—those where some attendees are in the office and others join remotely. Other common struggles include not being able to tell who's speaking (72 percent), feeling disengaged (66 percent), missing visual cues like facial expressions (63 percent), and not being able to see the whiteboard (63 percent).
In spite of these problems, only 38 percent of respondents said their employers have upgraded their video technology to allow for more hybrid collaboration.
"Make no mistake, fully remote is easier than hybrid," said Lister. "We've grown accustomed to all being equal squares on a screen. It's made the whole work experience more egalitarian, but when some people are in the room and some are not, we will need to be very intentional about making sure everyone's voice is heard and everyone is measured by what they do rather than where they do it."
Managers should be more worried about burnout
The stress of the pandemic has taken a high toll on employees. A full quarter of respondents said they changed jobs since last March; nearly 9 out of 10 (87 percent) did so to reduce their stress. Surprisingly, only 1 in 10 managers (11 percent) say they are concerned about employee burnout. The reasons for employee stress are varied.
• Nearly two-thirds (63 percent) of respondents who worked from home during the pandemic also had to care for children or dependents. As women disproportionately reported filling the caregiving roles in families with young children, it comes as no surprise that they changed jobs 47 percent more than men during the pandemic. The caregiving gender gap may also be why men who have returned to work in person are enjoying it 24 percent more than their female counterparts.
• For some, their home has not been an ideal place to work, particularly during the pandemic. Nearly 1 in 3 (32 percent) report having worked inside actual closets at least some of the time.
• Lack of clarity around how they will be expected to work in the future is causing stress for over 4 in 10 employees (42 percent).
"Ultimately, autonomy over where and when they work will be key to reducing employee stress"
Fifty-one percent of respondents sought relief by adopting a pet during the pandemic. In addition to conventional stress interventions, employers might want to consider strategies for dealing with the separation anxiety—for both the pets and the people—that is likely to result from a return-to-office.
"Ultimately, autonomy over where and when they work will be key to reducing employee stress," said Lister. About 82 percent of employees say having the option to work remotely at least part-time post-pandemic would improve their mental health and three out of four (75 percent) said it would make them less likely to leave their employers. On the flip side, not having the option to work remotely at all would be a dealbreaker for a quarter of employees (25 percent), who said they would quit their jobs if they were denied flexibility.
Redefining the future of work to be more inclusive
How we were working prior to the pandemic wasn't really working for many including caregivers, those with disabilities, those living far from major cities, and more. n the midst of a childcare crisis and at a time when people are yearning for safe connection with others, it's not surprising to hear that 86 percent of people who worked remotely during the pandemic said the experience has improved their family experience.
For hybrid work to be successful, organisations will need to revamp their work practices, work policies, and even their workplaces. Only about a third (36 percent) of employees feel the office is the best place to do individual work and less than a quarter (24 percent) have expanded collaboration spaces. "Employers are now faced with a unique opportunity to create a totally new world of work, one that is both physically and mentally rewarding for all of their people," says Lister.
Employees are on the move
Remote and hybrid-remote work options have already begun to change the landscape of major cities and invigorated the economies of smaller cities and towns. More than 1 in 4 (27 percent) remote employees relocated, at least temporarily, during the pandemic.
Ready for change
While many employers have yet to invest in technology to address the unique challenges of hybrid work, the pandemic experience has already opened employee minds to the next frontier of collaboration. As some tech giants go all-in on the metaverse, more than half of employees are interested in emerging technologies such as holograms (56 percent interested) and virtual reality (56 percent interested). Concepts like the 4-day work week have bubbled up too with 87 percent of employees expressing interest in that option.
Download the full 32-page State of Remote Work 2021 report here.
Image:Owl Labs