March 30, 2020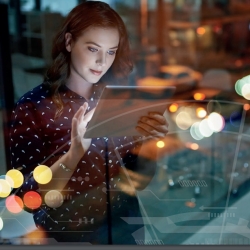 New research by Hays Talent Solutions claims workplace technology has had a significant impact on businesses and organisations when it comes to development, automation and growth; continuing to shake up the modern workplace and workforce in 2020. Paving the way for the change, younger workers are arguably redefining what workers want from their employers, while employees struggle to adapt to a technological workplace.
Last year, 2 in 5 UK workers did not have the correct qualifications for their jobs, while businesses were faced with a worsening skills gap, as businesses are unprepared for scenarios where:
• Employees have to work from home for an extended period of time
• They could rely on automation to continue production
Shining a light on issues faced in today's skill-short and technology-led workplace, Hays have polled over 14,500 working professionals to uncover the mindset for digital transformation in the technological workplace, in their latest report: What Workers Want.(registration)
What workers want now
Technology will change workplace and everyday lives for the better.
90 percent of UK workers believe technology will change their workplace and everyday lives for the better. A culture that embraces digital change and innovation is an integral factor that workers want from their current employers, with 1 in 2 believing advances in digital technology will allow people to add greater human value to organisations in the future.
In 2020, technological advances in the form of automation are steadily being adopted across many levels in numerous sectors including marketing, finance and supply chain, and UK workers are more enthusiastic about using digital technology at work than in their personal lives. 73 percent of employees have an open mindset towards digital transformation in the workplace, but less than half are satisfied with the pace of their organisations' technological change.
1 in 5 feels the technological change is happening too fast, with over a third stating there needs to be more training, despite over half of businesses introducing internal training and improving employee communications.
Over half of companies feel staff are under-skilled for digital transformation
According to the poll, over half of employers across all sectors expect to come up against a lack of skills from the current workforce. Despite over a third of Generation Z, 32 percent of men and 21 percent of women believe they are 'experts' when it comes to using technology, 41 percent of employees and 30 percent of employers say providing support with training and upskilling is the most important way for a business to prepare for automation.
Regardless, many employers are still struggling to adopt a strategy that incorporates technological change, such as automation. Currently, only 9 percent of employers feel they would experience no challenges when trying to implement automation within their organisation, but 9 in 10 the barriers and challenges that employers expect to encounter include:
• Lack of skills from current staff (58 percent)
• Lack of support from staff (37 percent)
• Need for additional budget (31 percent)
• Requirement of new processes (26 percent)
• Difficulty integrating with different departments (24 percent)
• Insufficient internal training (22 percent)