January 14, 2021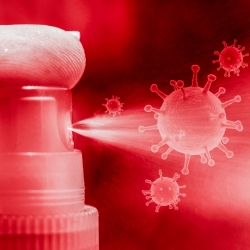 New research by Sanitiser Sentinel, highlights the importance of hygiene and safety in the workplace since the inception of the COVID-19 pandemic in March 2020. Almost 2,500 British workers – all of whom are currently still visiting their offices – took part in the survey which was carried out.
Of these individuals, 36 percent reported that hygiene and safety within their workplace has improved following the outbreak of COVID-19, noting the roll out of multiple hand sanitiser stations (56 percent), regular temperature checks (49 percent) and zoning areas (e.g. in the kitchen/bathrooms) (42 percent) the most implemented safety precautions.
Simultaneously, 64 percent of respondents stated that hygiene levels in the workplace had failed to improve in line with COVID-19.
When asked to specify the reasons they deem their workplace as unhygienic, 31 percent stated the toilets were not regularly cleaned, 23 percent noted the kitchen was unclean, 18 percent stated there was mould growing in the fridge, 15 percent stated the rubbish/waste was not regularly taken out and 13 percent stated the communal areas were unclean.
When asked if cleaning products were readily available within the office, 43 percent of the respondents agreed with that there were cleaning supplies within the workplace. Whereas 57 percent stated there were no cleaning products available to use to clean the office.
33 percent of people think they have suffered from hygiene related illnesses from work since the onset of the COVID-19 pandemic, whilst almost three quarters (73 percent) claim they often witness colleagues failing to adhere to social distancing rules and standing too close to or even touching others.
Image by mohamed Hassan