May 23, 2016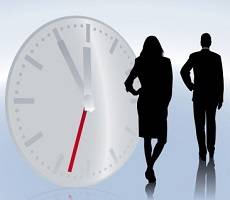 A significant proportion of businesses are still not giving their employees the support they need to work remotely and flexibly, despite the fact that 72 percent of UK office workers now believe the traditional fixed workplace is no longer relevant. For the vast majority the traditional nine-to-five is already a thing of the past, with nearly two thirds (62 percent) of people already using some form of flexible working at least one day per week. On average UK workers spend 2.5 days each week working remotely. The findings claimed by 'The End of Nine-to-Five' report commissioned by TeamViewer suggest that, despite the increased demands and expectations of employees, nearly 2 in 5 (37 percent) UK office workers said that their company's IT department do not encourage remote working and do not make it easy. This figure went up as the size of the organisation increased, rising to 44 percent for companies with over 500 employees.
The report also claims:
5 percent of workers believe you don't need to go to the office daily to be productive;
82 percent agree that employees should be offered flexibility without it affecting their career;
82 percent say that working flexible working makes them more effective in their job;
82 percent agree that the worst thing about regular nine to five is commuting;
81 percent of 16-24 year-olds think traditional office life is not relevant in the 21st century;
5 percent say that working nine-to-five makes them stressed.
Commenting on the report Phil Flaxton, Chief Executive, Work Wise UK said: "Technology is giving us the means to work better and focus on output, not input. With the gadgets and software we have at our disposal today, we now have the capability to create a new environment where businesses can flourish, workers can be healthier and happier, and resources can be used effectively to create a better work- life balance while improving the motivation and productivity of businesses and workers alike."
The TeamViewer report, 'The End of Nine-to-Five' is available download here.