June 17, 2014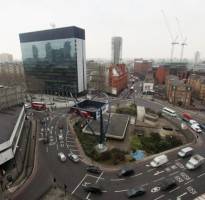 As we reported last week, London and the South East of England remain the UK's hotspots for new business start-ups and now new research claims that the region now has more people working in the vital technology and information sector than the capital of world tech, California. The report from South Mountain Economics and Bloomberg Philanthropies shows that there are nearly three quarters of a million people working for technology firms in London, the South East and East Anglia compared to 692,000 in California and that there are more firms working in financial technology in London than either Silicon Valley or New York. The report backs up new research from Oxford Economics, commissioned by the Mayor of London to coincide with London Technology Week, which claims that over the next decade, London's digital tech sector is expected to grow at a rate of 5.1 per cent per annum, creating an additional £12 billion of economic activity and 46,000 new jobs, which in turn is driving change in the commercial property market.
The Mayor of London was yesterday joined by some of the leading figures in the global tech sector including the former Mayor of New York City, Michael R Bloomberg, to launch the first ever London Technology Week, claimed to be the largest collection of tech events ever seen in Europe.
[embedplusvideo height="400″ width="450″ editlink="https://bit.ly/1jvyz8r" standard="https://www.youtube.com/v/ReAQFGtZQns?fs=1″ vars="ytid=ReAQFGtZQns&width=450&height=400&start=&stop=&rs=w&hd=0&autoplay=0&react=1&chapters=&notes=" id="ep4199″ /]Over 200 events are expected to be attended by over 30,000 tech entrepreneurs, investors, business leaders and developers from around the world who will hear from some of the world's biggest tech companies, including Microsoft, Samsung, Google, Eventbrite and Yammer, as well as home-grown successes, such as Mind Candy and Hassle.
Michael R. Bloomberg said of the event: "Ten years ago, no one thought of New York or London as a competitor to Silicon Valley – but today, more and more tech companies are looking to our cities as places to launch and grow, because they offer such diversity, creative talent, and high quality of life. Tech companies thrive on data, and the new Center for Urban Science and Progress in London will harness the power of data to make London an even better place, just as NYU-CUSP is doing in New York. Bloomberg Associates is looking forward to working with Mayor Johnson and his team to build on London's tech momentum and create more jobs in the city."
Events across London Technology week will highlight London's expertise in areas such as financial tech, creative tech, retail tech and gaming. The Internet World exhibition and Tech Transformation Forum will showcase the most cutting-edge technology innovations and strategies, while other events include a live demonstration of second screen technology during World Cup matches; consumer tech demos, including a real-life racing game with miniature AI robotic cars; and Imperial College scientists demonstrating how they are creating a 'virtual brain' in order to help understand how our brains work.