June 10, 2014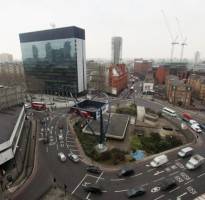 Research from accountants UHY Hacker Young has revealed the UK's most popular postcodes for business start-ups. Silicon Roundabout is the most prolific area, generating 15,620 new businesses over the last year. London, unsurprisingly dominates the list with only three zones outside the capital making the top 20. Within London, Silicon Roundabout saw nearly five times as many businesses launched as Canary Wharf (3,180). The Borough, Bankside and Bermondsey areas, covered by the SE1 postcode, saw a rapid expansion in new business creation, with a 13 percent increase in new businesses, from 5,190 to 5,850 in the last year. Outside of London, Hove (BN3), came 10th marked out as a hub for outsourcing, tech and finance businesses, Leeds LS14 which came 12th and Warrington WA1 which both offer a large number of business and technology parks.
Colin Jones, partner in UHY Hacker Young's London office, explains: "Silicon Roundabout has maintained its position as the epicentre of the UK's technology industry. With so many start-ups and established businesses in the area, it is no longer hype to compare it to Silicon Valley, or TechHub Berlin. However rising rents in the Silicon Roundabout area mean that many start-ups are now choosing areas south of the River Thames, or East London as their first base."
The report claims that most of these new start-ups will be one man band IT programmers, media or marketing consultants or contractors in associated businesses rather than larger-scale e-commerce companies.
Colin comments: "The area has experienced rapid regeneration in recent years, most notably the development of the Shard, which is attracting the professional and financial services and businesses from the creative industries into the area. Businesses are benefiting from the close proximity to the City and the West End whilst taking advantage of the lower office rents available in SE1. Nearby culinary hotspots, Bermondsey Street and Borough Market, have made the area more attractive to other sectors such as the creative industries."
The E1 postcode in London, which covers the area from Spitalfields to Mile End, also saw an increase in new business generation. Colin explains: "The increased number of start-ups in Shoreditch, Spitalfields and E1 as a whole, will also be partly down to the increasing rents in the area surrounding Silicon Roundabout."
The postcode SW1Y, which covers Mayfair in Central London, is in the top 10 areas for new businesses, experiencing a 10% increase in the number of new businesses created last year, up from 1,830 to 2,020, despite having some of the world's highest rates for office space. Colin explains: "Mayfair is home to a large amount of activity in the financial services sector, especially hedge funds and private equity firms. The prestige of opening offices in the area is vital to their business so they are not put off by the high rents. The close proximity to the community of super-rich individuals in nearby areas such as Knightsbridge is integral to these newly created financial services businesses. The area also benefits from a cluster effect."