June 2, 2016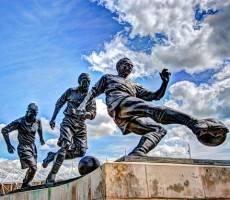 Not that I care*, but the UEFA European Championships will apparently take place in France from Friday 10th June 2016 until Sunday 10th July 2016, with the kick off times varying between 2pm and 8pm. The main issues which will affect both employee and employers will be around; requests for annual leave; sickness absence and internet and social media use during working hours. Aside from the irritation felt by those of us who don't follow the beautiful game, it's probably best to adhere to advice from workplace experts such as Acas and Sodexo, that flexibility from both employers and employees throughout the championships will ensure a productive business and engaged workforce. Acas counsels that before the start of the tournament or any major sporting event it would be best to have agreements in place regarding such issues as time off, sickness absence or even watching TV during these events.
Jamie Mackenzie, Director of Marketing, Sodexo Benefits and Rewards Services says: "2016 marks a mammoth summer of sport, with high profile events such as Wimbledon, Euro 2016 and the Olympics taking place. With many of the events taking place during working hours and 1 in 5 employees feeling least motivated during summertime and sporting events,
"Acas is right to advise employers to consider how they will manage productivity and motivation levels. Offering employees flexible working hours to follow the sport is an inexpensive, easy to implement perk which can go a long way towards increasing motivation levels. This will not only improve staff morale and encourage a positive work-life balance, but also demonstrates that businesses understand what their employees want and enjoy."
He adds: "Providing a means for employees to watch the sport – be that on an office TV or at an outdoor screening – will also encourage individuals to engage with others that they otherwise may not, helping to strengthen office culture.
Sodexo at least, does consider those of us who aren't interested in following the sport this summer to ensure that they are incentivised in equal measure.
For example, he says, this could include: "simple initiatives such as earlier finishes or extended lunch breaks outside so that staff can enjoy the sunshine – whilst not necessarily having to watch the sport."
The Acas advice include more detailed guidance on issues such as:
Annual leave
Sickness absence
Flexibility
Use of social networking sites and websites
Drinking or being under the influence at work
Image: Jonathan Statham
*The opinions expressed are those of the author only and may not reflect those of other people working on this website.