September 16, 2014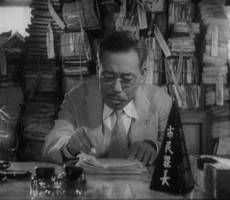 One of the UK's five main national examination boards is to introduce a range of workplace issues as part of its updated Psychology A Level syllabus from next year. Cambridge based OCR claims that Psychology is the UK's fourth  most popular subject at both A and AS level and is also one of the most popular subjects at degree level too. The issues will be introduced to the syllabus as part of an Environmental Psychology theme and will consider as issues such as the effects of allowing desk clutter on individual wellbeing (although it didn't do much for Kanji Watanabe in Akira Kurosawa's film Ikiru, above), gender roles in workstation personalisation and so on. Students will be expected to carry out their own research into the topics as well as draw on established sources of information. OCR also suggests that the subject may help to develop the emotional intelligence of those who take the subject.
Mark Dawe, OCR Chief Executive, says: "This minimum requirement ensures that students build up strong statistical and numeracy skills. Added to the critical thinking, analytical skills and essay writing the course demands, Psychology is an intellectually stretching but very fulfilling subject that produces highly employable students."
OCR claims it has also looked closely at the work of the Higher Education Academy (HEA), the national body for enhancing HE learning and teaching, to ensure its new Psychology A Level course reflects contemporary theory and practice at university level, including the important area of psychological literacy.
Dr Julie Hulme, Consultant in Academic Practice at the HEA believes psychological literacy "offers potential solutions to many of the world's problems – large or small".
Vicky Hunter, OCR Subject Team Manager, says: "There is no doubt that psychology has a big impact on all areas of life, from education and health, to the economy and crime. It gives students a greater understanding of why human beings are wonderful, kind, creative and sometimes broken or cruel. It uses rigorous scientific methodology, requiring students to formulate theories, test hypotheses and analyse reports with rigorous statistical techniques, to come up with important findings."