June 18, 2015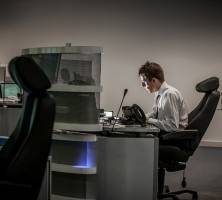 A report from facilities management company Mitie claims that the design and management of too many workplaces are hampering the productivity of employees. Based on a survey of nearly 2,500 service sector staff carried out by Quora Consulting, the report comes to the perhaps unsurprising conclusion that facilities managers should prioritise people over buildings. The study found that younger workers are especially critical of their surroundings and working cultures. Two thirds of 20-29 year olds claim that their offices are not designed to optimise productivity. Finance and legal workers also feel let down by their workplaces with almost half claiming their workplaces do not optimise their productivity. These sectors were also emotionally disengaged with fewer than 35 percent identifying themselves as 'emotionally attached' to their workplaces.
However, those working for not-for-profit organisations were most damning. Over 90 percent of these employees claim to be emotionally detached from their workplaces, whilst only 30 percent felt that the not-for-profit workplace maximises productivity.
The report also claims that 80 percent of those surveyed agree that facilities management is a core people-facing operational function. It lays out a series of challenges facing facilities managers to provide people with a working environment that enhances their productivity and wellbeing and addresses common issues relating to working culture, privacy and their personal health and happiness.
Martyn Freeman, MD of Mitie's Facilities Management business, said: "Business faces an urgent challenge. Service sector workers are clearly disappointed by their workplaces. We must listen to this call for change. We need to ensure that FM serves employees and not buildings. We need to be flexible towards individuals and not enforce a blinkered one-size-fits-all approach. Every effort must be made to ensure that FM, in unison with other business functions, puts people first."