October 21, 2015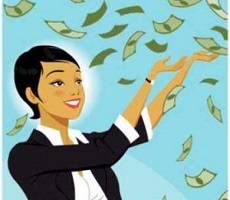 Nearly three quarters of the UK's working women don't receive any form of annual bonus. Glassdoor's latest UK Employment Confidence Survey  found that only 29 percent of women at work receive a bonus, compared to 44 percent of men, which presumably is one reason why 44 percent of men remain positive about the outlook for their employer as opposed to just one in three women. The survey, which is carried out twice a year, also found that over the last six months, nearly half of all businesses in the UK that had made negative changes in the workplace (49 percent) had made employees redundant/and or communicated plans to implement further redundancies. The result is that nearly a third of employees (32 percent) are concerned that they will be made redundant over the next six months, up from 21 percent from the beginning of last year.
When asked if they were concerned about co-workers being made redundant, 44 percent agreed. However approximately one in three (32 percent) employees do believe though, that if they were made redundant they would be able to find a new job that matches their skills and experience within the next six months, down two percent on previous quarter. Of those currently unemployed, only 30 percent believe they will find a job over the next six months – down 10 percentage points on the previous quarter.
This is an improvement since the first quarter of 2014, with a figure of just 25 percent. Slightly more men (33 percent) than women (29 percent) feel confident that they will find a new job. Nearly half (49 percent) of 16-24 year olds feel confident of finding a new job matching their experience in the next six months compared to just 20 percent of those in the 55+ range.
Salary expectations are also at the highest point since Q2 2014, as 37 percent of employees believe that they will receive a pay increase within the next 12 months, which is a 3 percent increase on the previous quarter. The most pessimistic region for a pay increase is across the North West (32 percent), with employees based in the East of England most optimistic (46 percent).
Glassdoor publishes the UK Employment Confidence Survey twice a year, helping job seekers, employees and employers monitor and track employee confidence in the UK and how it relates to business, jobs, companies, careers, hiring and more.