October 20, 2015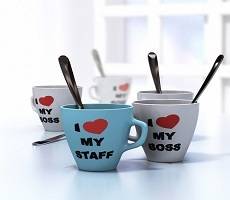 Nearly three-fourths (74 percent) of US employees consider their relationship with their boss to be excellent or good. However, for many employees, that relationship does not extend out of the office. According to staffing company Spherion's "WorkSphere" survey, American workers who have a boss are split on whether they consider him or her a friend — 49 percent say yes, while 51 percent say no. And, while 82 percent of employees who have a boss report socializing with him or her during work hours or at work-related events, fewer than half of these workers (46 percent) ever see their boss outside of the office, and 41 percent consider their relationship exclusively professional. However, nearly one in five (18 percent) are connected on their personal social media channels; with nearly twice as many workers ages 18-44 (23 percent) engaging with their bosses in this manner than workers ages 45-54 (12 percent).
Despite not desiring a closer friendship with their boss, employees do see possible upsides from maintaining a more personal relationship. Three in five workers (60 percent) believe to a great or fair amount that employees who are friends with their boss receive special treatment in the workplace compared to those who choose to keep greater distance. In particular, employees believe that bosses offer close colleagues a range of benefits, including more frequent personal interaction or attention (56 percent) and schedule flexibility (52 percent), among others, than they offer their coworkers.
While most employees with a boss say they have an excellent or good relationship, men are more likely than women to consider their boss a friend (53 percent and 45 percent, respectively). In addition, although men (83 percent) and women (81 percent) almost are equally likely to socialize with their boss during work hours, men are more likely to continue this socialization outside the office (50 percent versus 43 percent, respectively).
Eighty percent of employees feel comfortable being honest with their boss about critical workplace issues. A similar percentage of workers (79 percent) feel their boss is fully honest with them on the same subjects.
Workers between the ages of 18 and 34 (55 percent) are more likely than those who are 35-44 (45 percent) or 45-54 (41 percent) to consider their boss a friend. Nearly one in five (18 percent) men between the ages of 18 and 34 describe their relationship with their boss as equally professional and personal, compared with 12 percent of women in this age group.
More than half (52 percent) of 18-34 year olds report ever socializing with their boss outside of work, compared to 43 percent of those who are between 45 and 54.
"Top-down friendships really come down to balance," said Sandy Mazur, Spherion Division President. "Given the focus on engagement and retention in the workplace, bosses should help establish a middle ground where employees feel they can approach them to discuss both personal and workplace matters, but where there also are clear boundaries so that time spent at work is devoted primarily to professional conversations and tasks."