October 17, 2014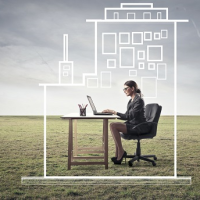 The sharp reduction in the amount of office space used by corporate occupiers as they adopt more agile working practices has been confirmed in a new study from facilities management services provider MITIE. The survey, as reported in the British Institute of Facilities Management (BIFM) magazine FM World, found that between the years of 2008 and 2014 firms reduced their floorspace by an average of 45 percent. The results of the report, based on interviews with property directors, mirror those of the Occupier Density Survey published last year by the British Council for Offices (BCO) which also found a marked (if smaller) reduction. The authors of the MITIE report conclude, similarly, that the economic downturn has been the main catalyst for the reduction in property used by occupiers and that the main way firms have accommodated the fall is with the uptake of flexible working practices.
According to the FM World report a MITIE spokeswoman said: "The new agile environments will require a different kind of FM service model based more around a hotel/concierge model that focuses more on the people who occupy the building than the building infrastructure itself. The quality of the service and the range of services provided will need to change and this will come at a cost – herein lies the opportunity for FM service providers to reinvigorate their range of services around a new model, providing a broader range of services to the market – data analytics around how people use a building, space management, etc."
Other conclusion from the report include:
A changing role for corporate headquarters including a greater focus on its function as a 'mother ship' for client facing activities and collaborative working.
A closer working relationship between IT, FM and HR to accommodate more agile working.
A greater corporate focus on energy costs as the organisation's cost base shifts away from its traditional second highest expense (property) towards technology (datacentres and devices).