January 18, 2022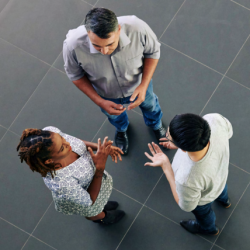 Over 40 percent of employers are finding it more difficult to retain and recruit staff, according to Aon's Benefits and Trends Survey 2022 (registration). The report claims that many employers have adjusted their benefits strategies to address an intense labour market, in which employee work motivations have shifted in the wake of the COVID-19 pandemic. Forty-one percent of employers said they have found it more difficult to retain staff in the last year, while 44 percent have found it more difficult to recruit new staff. Many employers anecdotally expressed in the survey that they need to pay higher salaries or sign-on bonuses to entice new recruits.
Aon's annual survey shows trends in employer benefits strategies, highlighting issues experienced by employers and employees. In its 12th year, the survey took into account the experiences of 253 HR, employee benefit and reward professionals from across the UK in a variety of sectors. Seventeen percent of respondents stated their organisation employs more than 5,000 people; 33 percent employ between 1,001 and 5,000 people; 13 percent employ 501 to 1,000 people; 10 percent employ 251 to 500; and 27 percent employ fewer than 250 people.
Richard Morgan, principal, Employee Benefits, Aon, said: "The workplace is now a seller's market – employees can be, and are being, more selective about who they work for. Younger generations, in particular, put more importance on what an employer stands for – their purpose and brand. They are expectant of flexibility and prepared to go it alone in the gig economy. This all demands deeper thinking from employers on how they navigate new forms of volatility, not least how their Employee Value Proposition (EVP) evolves, how it is communicated and delivered, and how the impact and value it derives is measured and reviewed. Pay is clearly under pressure too, with companies paying sign-on bonuses and referral bonuses as well as offering flexible working to help attract candidates."
The Survey also showed that employee engagement is seen as the most important objective for companies' benefits strategies, with 80 percent rating it as either one or two out of five in importance as they adjust to changing employee needs and a multi-generational workforce. Employee choice, recruitment and retention were considered the next most important.
Employers have also adjusted by competing for talent in different market sectors. Nearly half (48 percent) have already adapted to this need, while 13 percent expect to change in the next five years. Accordingly, 81 percent said they will need to change their benefits strategy to meet the needs of future generations.
As employers continue to strive to engage employees and candidates, Aon's Benefits and Trends Survey also found that more employers either have a clear Employee Value Proposition (EVP) or plan to develop one, increasing from 71 percent last year to 81 percent this year. Eighty-five percent of employers believed their EVP positively impacts recruitment, 75 percent believed it positively impacts retention and another 85 percent believed it positively impacts employee engagement. EVP components vary considerably, but key themes are wellbeing, treating people fairly/caring and flexibility as well as establishing clear values and principles. Employers also recognised the need to embed their EVP by communicating it to their employees, which is now at 90 percent.
Companies have continued to adapt to the impacts of COVID-19. With many employees now working from home at least some of the time, it is not surprising that half of companies have an agile working policy in place, up from 43 percent last year.
In addition, over a third (37 percent) of companies provided additional allowances for financial support for the various costs of running a home office, while 87 percent of companies provided the necessary technology including a computer monitor, mouse and keyboard.