May 1, 2019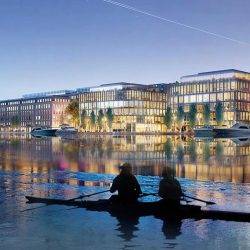 A newly delivered building at Royal Albert Dock (RAD) in London has been launched as the UK India Tech Hub to provide a designated space for technology firms from India and the UK. It is claimed to be the first venture capital fund that has partnered with a business district to create a tech hub anywhere the world. Under the partnership agreement, developer ABP London and investors Pontaq will provide technology firms with work space while Pontaq's tech fund will be invested in tech start-ups to assist them to develop and expand. India High Commissioner, Ruchi Ghanashyam, and Under Secretary of State at the Department for International Trade, Graham Stuart MP, along with Mayor of Newham Rokhsana Fiaz, witnessed the signing of an agreement between Royal Albert Dock developer ABP London and the venture capital firm Pontaq.
RAD claims to be London's new international business district in at Royal Albert Dock with a specific focus on tech – from start-ups to major players – and has been created for companies from Asia looking to reach new markets and for UK businesses looking to go global through connecting with them.A programme of innovation-focused tech events is being curated for the new RAD tech community to develop ideas and products and to connect with industry experts and to access resources and funding.
Interest from the UK India tech community to locate in the £1.7bn and 4.7m sq ft RAD development is high, with Pontaq will be taking 200 desks initially and aiming to host 50 companies in the next 2 year. Tech companies are increasingly attracted to the RAD location because of the strong transport links and low occupation costs, far less than competing schemes in City Fringe which have in the past gathered London tech firms but where costs have increased significantly.
Pontaq and its businesses partners will be able to operate from the new tech hub in a recently completed Grade A office building highly flexible terms, with Pontaq using the location as a platform for tech companies from the UK and India looking to set up in London and for UK companies seeking a location to globalise. ABP London and Pontaq will also work together to foster cross border technology collaboration and to jointly promote the new UK India Tech Hub.
A gateway for technology
India High Commissioner, Ruchi Ghanashyam said: "The UK India Tech Hub provides a gateway for cross pollinating technology and innovation in early stage businesses between the two countries. This provides a great platform to create globally scalable companies, more jobs and a positive economic impact in this corridor."
Graham Stuart, Minister for Investment at the Department for International Trade said: "The UK has a consistent track record of producing successful tech companies and has more venture capital investment in tech than anywhere else in Europe. The launch of the UK – India Tech Hub at Royal Albert Dock marks a notable milestone in further promoting technology partnership and investment with India. The Department for International Trade is committed to supporting our leading tech firms break into new markets and showcase British tech on the global stage."
The Mayor of Newham, Rokhsana Fiaz, said: "Newham Royal Docks is London's gateway to the world, so I'm really thrilled to be welcoming Pontaq and the UK India Innovation Fund to the borough as it confirms our international appeal. It's a sign of the exciting opportunities available for investors in the capital's only Enterprise Zone, which makes Newham a dynamic destination hub for innovation for start-ups and companies from the UK and around the globe.
"I'm especially delighted that Pontaq's new base at the Royal Albert Docks development by ABP will mean more Indian-UK collaboration and technology transfer between the two countries. It links with my agenda of transforming Newham to become the prime location for Capital's Fintech, smart cities and emerging technologies companies. I'm looking forward to welcoming technology start-ups from India to Newham working with them to create job and training opportunities for local residents and young people here."
ABP London Chief Operating Officer John Miu said: "India is a powerhouse for tech talents and we are delighted to welcome some of those tech talents Pontaq will be bringing to RAD. ABP created RAD as London's new international business district especially created for companies from Asia looking to reach new markets and for international businesses looking to expand through connecting with them. We believe RAD is the perfect launch pad for tech firms with its advantages in location, cost and the business networks we are establishing."