September 21, 2015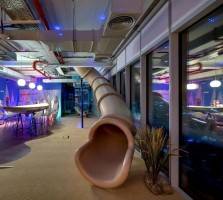 Since the early Twentieth Century, business leaders have been experimenting with office design in an attempt to improve productivity. From the sea of forward-facing desks imagined by Frederick Taylor, to the infamous cubicle of the late 1960s, to today's open-plan office, each innovation has said something about our changing relationship to work. In a Gensler survey with more than 2,000 participants, 90 percent of respondents indicated that better workplace design and layout result in better overall performance. The greatest developments of recent times have emerged from the tech giants of Silicon Valley, where businesses have blended playfulness, company culture and the collaborative benefits of open layouts to craft unique and engaging spaces. So where are we headed? Here are five major trends that are likely to have a lasting impact on the way we work.
The Open Office Trap
The dominant trend of the past two decades has been the rise of the open office, with 70 percent of US offices now having no or low partitions. As Facebook employees move into their brand new 'West Campus', which boasts the largest open floor plan in the world, this trend looks very much set to continue.
The project of breaking down barriers in the workplace was intended to facilitate greater communication and collaboration while reducing construction costs. In support of this, evidence suggests that open-plan spaces are able to positively affect the frequency and nature of interactions and communication.
However, the early promise of the open office is gradually losing its lustre. Writing for The New Yorker, Maria Konnikova warns of the open-office trap: while open offices encourage community cohesion and the exchange of ideas, they may also be damaging to workers' attention spans, productivity and creative thinking. This will be far from a revelation to anyone who has attempted focused, individual work in an open-plan environment.
A critical shift in workplace design has already begun: let employees choose which type of space they need for a given task. Designers are now seeking to provide the right mix of space, with both private and collaborative areas dispersed throughout the building. New sites, such as GlaxoSmithKline's Brentford offices or LinkedIn's Milan offices, already offer a variety of spaces to individuals and groups of different sizes.
Flexibility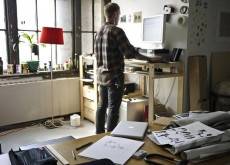 Strongly related to the concerns surrounding collaborative vs. individual spaces is the general movement towards more flexible workspaces. As employers and designers reject the old notion of one-size-fits-all, offices are becoming more diverse and adaptable. A before and after study for pharmaceutical company Lilly found that a move from rigidly assigned individual spaces to more diverse, unassigned spaces, such as concentrated focus rooms, team workspaces, cafes and discussion enclaves, resulted in a 29 percent increase in overall employee satisfaction.
About one third of organisations have gone further still and chosen to introduce a 'hoteling' programme in which workspace is unassigned. Instead, employees reserve a workspace based on their requirements. Recent research has revealed that only 30 to 40 percent of employees with assigned desks are using them, so well-managed hoteling can offer considerable cost reductions without damaging productivity.
Of course, this wider strategy is unlikely to catch on any time soon, but the power of flexible furniture and layouts is being realised by companies across the globe. From Google (main image) to ff Venture Capital, employers are introducing standing and height-adjustable desks to counteract the risks of our sedentary lifestyles, while others utilise mixed furniture ranges to encourage different forms of interaction.
Playfulness and Company Culture
Understandably, some may shudder at the thought of slides, Ping-Pong tables and DJ booths invading the workplace. Even San Francisco-based interiors firm Studio O+A, responsible for many unconventional workplaces, admits that 'tech offices have a reputation for being a little bit juvenile, a little too playful.'
However, this trend seems to have taken an interesting turn in the last couple of years. Forward-thinking firms are taking a more refined approach to playfulness at the office: Coca-Cola's new London headquarters are bursting with vintage artefacts that explore the brand's long history and Google's Tel Aviv offices, though still with slide, take inspiration from local identity, featuring an indoor orange grove that playfully evokes the city's productive history.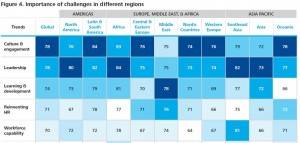 The truth is that today, with networking tools like LinkedIn, Facebook and Glassdoor allowing prospective employees to make more informed career choices, the employer-employee relationship is drastically changing. As new Deloitte research suggests, employees are becoming more like customers or partners than subordinates.
Coca-Cola and Google therefore understand that culture and engagement are critical tools in attracting and retaining talent. In fact, 87 percent of organisations cite culture and engagement as one of their top challenges, according to the same Deloitte study. Clearly, company culture extends far beyond office design, but businesses that recognise the power of design and playfulness to help build and support their culture will be granted a competitive edge in the years to come.
Nature and Sustainability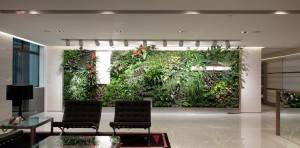 There is an enormous amount of evidence detailing the benefits of plants in the workplace. In some cases, researchers have observed employee productivity gains of up to 15 percent. It is therefore unsurprising that bringing nature indoors has been a common design theme in recent years. A particularly popular option is the green wall or vertical garden, featured in offices from Facebook, Zendesk, Deloitte, Microsoft and a number of other big names.
However, just as with playfulness, the meaning of a more natural office has matured and expanded. As well as incorporating plant life, designers are moving towards raw materials and textures such as wood, brass and copper. The focus is on sustainability, authenticity and a better overall relationship with nature.
Companies are realising that the design of their office is an opportunity to express their values. Choosing recycled, reclaimed or remanufactured furnishings can help convince both employees and consumers of a commitment to sustainability.
Satisfying the concerns of customers is perhaps why companies that adopted environmental policies in the 1990s have out-performed those that didn't. Expect ever more audacious displays of environmental consciousness as businesses hope to convince an even larger audience.
What Office?
The past decade has seen an explosion of the freelance economy, with 34 percent of the U.S. workforce now working freelance according to a recent Freelancers Union study. What's more, an Intuit 2020 Report suggests that this number will exceed 40 percent by 2020, as 80 percent of large corporations plan to substantially increase their use of contingent workers.
These numbers have led many to predict that freelance workers will reshape the nature of companies, but they will also reinvent the places in which we work. In fact, their impact is already being felt in the form of co-working spaces. These subscription-based offices gather independent workers under one roof, affording commonly isolated freelancers, remote workers and entrepreneurs, all the advantages of a collaborative environment.
The results have been astounding. The Harvard Business Review describes how workers in such environments 'report levels of thriving that approach an average of 6 on a 7-point scale' – something completely unheard of. What do co-working spaces get right? As yet, no one is really sure, but it seems that a delicate balance of autonomy and community has something to do with it.
Whatever the benefits, co-working spaces will enjoy substantial growth in the next few years. In America, they have already seen a leap from 1 in 2005 to around 780 today. As organisations begin to examine the secrets of good office design more thoroughly, co-working spaces will be at the centre of the search for a more flexible and productive workplace.
_____________________________________________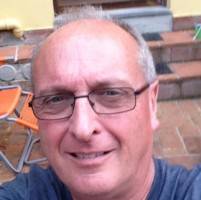 Tom Brialey is the owner of Action Storage Systems and Shanghai Mammoth