September 21, 2015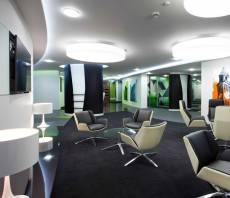 The UK's top law firms are spending more on their real estate and allocating more space to staff, following years of reductions. Those are two of the key findings of a new report from The Lawyer magazine and property consultants JLL. Around  half of the UK's Top 200 law firms shared detailed data with the study, which also incorporates publicly available information on transactions. The study also takes into account the links between real estate strategy and broader strategic, management and human resources issues. While the report says the amount of space dedicated to each lawyer has risen by 7 percent over the last two years and the costs of owning real estate have also risen markedly, it also describes how many firms are now actively using flexible working to reduce real estate costs.The report concludes with a speculative look at future trends, including the uptake of coworking space.
The key findings from the report include:
Three year trends – cost per lawyer has stabilised but space and cost per lawyer is increasing. The average cost per lawyer now  hovers around the £18,200 per year  mark while the amount of space per lawyer (now at 483 sq ft per lawyer) seems to be on a upward trend – increasing about 7 per cent since 2013.
Firms are paying a high cost per square foot. The total revenue of the firms providing data amounted to£3.9bn,taking a total of 7.49 million sq ft of space.
Across the sample, law firms paid an average of £41.13 persq ft and generated an average of £589.78 revenue per sq ft.
Across the entire sample of both London and regional firms, 44per cent are paying between£20 and£40 per square foot. Nineteen per cent are paying less than £20 per sq ft and 13 per cent are paying more than £60 per sq ft.
There is a wide variation in revenue per square foot generated. Almost three-quarters of firms are generating between£250 and £750 of revenue per square foot. However, almost a quarter of firms (23 per cent) generate over £750 of revenue per square foot.
New law firm models are yielding law firms substantial savings. New law firm models demonstrate that more flexible working can yield substantial real estate savings without negatively impacting employee wellbeing.
There is opportunity for significant real estate savings in revenue per cost of square foot – over two-thirds(69 percent) of firms are achieving £10-£20 of revenue per cost of square foot, yet 27percent are achieving over £20 and 10percentover£30.
There is a high cost of real estate per person employed. The legal sector is paying a lot of money to house its workforce. Some 30 per cent are paying between£2,500 and £5,000 per person and 26 per cent are paying£5,000 to £7,500. Many– 22per cent –are paying over £10,000 per person. The average annual cost per person across the sample was£8,032.56.
There is a significant variation in how much space is available for each person – with roughly equal numbers of firms providing less than 150, 150-200 and 200-250 sq ft. The lowest was 19 sq ft per person and the highest was an astonishing 687 sq ft per person. The average space per partner is 1,274 sq ft and for fee-earners it is 325 sq ft.
Comparing regional centres, the highest  prime rents are in London West End (£117.50 per sq ft per year) and the lowest are in Belfast (£15.50), Nottingham (£19.50) and Southampton (£19.50).
The top 10 deals in the second quarter of 2015 accounted for a total of 366,654 sq ft and all of these were in the City. Half of these deals were US firms.
Manchester dominates the largest regional deals. Six of the10 largest deals in the major regional UK centres were in Manchester. On average, firms are paying £65.00 per sq ft in London compared to £30.63 per sq ft outside London, or less than half.
The cost per lawyer in London is, on average, £24,675 compared to just £14,683 outside London. And lawyers generally have more space outside the capital – an average of 399 sq ft per lawyer in London compared to 486 sq ft outside London.
The report concludes with an analysis of future trends in firms' use of property and the impact on the people within them. According to the workforce consultants quizzed by the authors, the law offices of the future will be a blend of 'My Space, Our Space, Busy Space, Shared Space and Find Space. One respondent argues that a large proportion (up to 60 percent)will become variants of local  coworking spaces, and offices in central London will be reserved for weekly get-togethers with a continuation of the trend for fewer, but longer commuting journeys.
Main image: Shoosmiths Birmingham offices designed  by Claremont Group Interiors.