January 27, 2017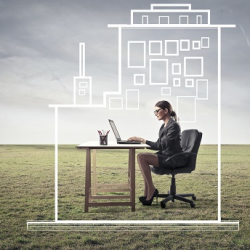 Flexible working hours and being their own boss makes the UK's self-employed much happier than those in traditional employment a new survey claims. According to the latest set of findings from the 'Definitive Study of the Self-Employed,' commissioned by Intuit QuickBooks, the self-employed generated mean annual revenues of £32,623 (£5,000 more than the average UK salary), despite working 10 hours less per week. Of those who have been a salaried worker, two thirds (66 percent) claim to be financially better off or the same and 65 percent also feel better off in terms of 'life satisfaction'. When the research considered nuanced reasons for choosing to work for oneself ;control of schedule (77 percent), more flexibility to work to one's own terms (68 percent) and liking being one's own boss (65 percent) were leading reasons, with not worrying about workplace politics (47 percent) also regularly referenced.
Female respondents want to work on their own terms (72 percent) and to pursue their passions / interests (41 percent) more than their male counterparts (31 percent), while men want to be their own boss (67 percent) more often than women (63 percent).
The number of self-employed grew to 4.77 million in January 2017 – a sharp rise to nearly 15 percent of the workforce and one age group in particular is making the most of this trend – the over-65s. Self-employed over-65s achieve mean annual revenues of £40,000, £7,000 more than the average self-employed worker. They also work 21 hours a week, six hours a week less than the average self-employed worker and 16 hours a week less than the average UK full-time employee.
Dominic Allon, Vice President and Managing Director, Intuit Europe, said: "People are becoming self-employed in droves. The financial rewards, extra time available and better quality of life are the headline benefits of a career and lifestyle choice that is changing the face of the UK's workforce. With more and more opportunities becoming available, all enabled by better tech and infrastructure, it's a trend we expect to increase at pace."
However, the research also revealed pain points involved in going it alone. Not having enough predictable income (58 percent) and uncertainty of the future (44 percent) were the most frequently cited challenges. Concern around work / life balance was also identified, with nearly one in four (23 percent) saying setting boundaries to stop work becoming a 24/7 commitment was a challenge. In addition, 17 percent are concerned with managing their finances correctly, pertinent with the January 31st tax deadline looming.
Many respondents also revealed they chose self-employment in reaction to negative circumstances. Twenty-three per cent made the move after losing a job, 7 percent said it was a reaction to having hours and/or pay reduced at work and a further 7 percent said it was due to a health emergency with the individual or the individual's family.
Allon continued: "To truly make the most of the financial gains, time savings and the happiness being self-employed can bring, individuals must stay laser focused on their finances. No longer backed by the experienced finance teams and processes that exist within most businesses of all sizes, individuals can have the benefits of going self-employed undermined on tax deadline day when not enough has been put aside or if there's not a clear divide between business and personal finances."
For more information click here