April 15, 2015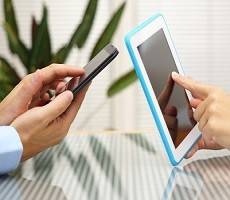 The use of BYOD (Bring Your Own Device) practices by an increasingly flexible workforce is posing huge risks to the data security of employers. Six out of ten employees routinely share their work and personal devices with others, nearly a fifth of employees don't have passwords on devices, and 22 percent admit they don't have security measures in place. The "Securing #GenMobile: Is Your Business Running the Risk" security threat study, questioned over 11,500 workers across 23 countries and found that attitudes have moved towards more sharing of devices and an indifferent view to security in the workplace. This high risk attitude to data security, which is more prevalent amongst younger workers is being overlooked by employers with over a third saying they have no mobile security policy in place.
Security ranks fifth behind brand and operating system when #GenMobile is making buying decisions for new devices. Nearly nine in ten (87%) assume their IT departments will keep them protected; however, nearly a third (31%) have lost data due to the misuse of a mobile device.
Over half (56%) of workers today said they are willing to disobey their boss to get something done, another (51%) say that mobile technologies enable them to be more productive and engaged, and over three quarters (77%) are willing to perform self-service IT.
"#GenMobile workers are flexible, transparent and collaborative, willing to take action to drive productivity and business growth. That said, these employees are also far more willing to share company data, and are notably oblivious towards security," said Ben Gibson, CMO of Aruba Networks.
However, as this high-risk culture enters the workplace, the report finds an alarming level of disparity among industries, individuals and countries when it comes to the treatment of mobile devices and data.
For example a surprising 39 percent of respondents from financial institutions admit to losing company data through the misuse of a mobile device, which is 25 percent higher than the average across all industries surveyed. The public sector (excluding education) is the least likely to report lost or stolen data.
High tech employees are nearly two times (46%) more likely than hospitality or education workers to simply give up their device password if asked for it by IT.
There are also differences between people, with men being 20 percent more likely to have lost personal or client data due to the misuse of a smartphone, and 40 percent more likely than females to fall victim to identity theft.
Respondents over the age of 55 are half as likely to experience identity theft or loss of personal/client data compared to younger employees. The age bracket with the highest propensity of data and identity theft are employees between 25-34 years old.
"Organizations should strive to build a secure and operational framework for all workers, rather than stifle them. These trends underline that #GenMobile employees continue to be a growing part of the everyday workforce, but they also bring with them some risky behaviours," said Gibson.