April 14, 2015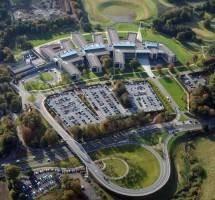 The Royal Bank of Scotland (RBS) is to close four of its offices in Edinburgh as it moves to consolidate its operations at its Gogarburn headquarters. The change is expected to divest around 344,000 sq. ft. of space at the four existing sites in the centre of Edinburgh, saving some £18 million a year when the move is completed by 2017. By then some 6,000 employees will be working at the HQ in the rural district of Gogar, doubling the number of existing employees on the site. In addition to the consolidation, RBS is opening up the building to new and existing businesses to promote their growth. The plans involve the creation of a centre for entrepreneurs and small businesses which will allow them access to expert advice and finance, develop relationships with RBS and also encourage them to collaborate and share ideas with each other.
An RBS spokesperson said: "Gogarburn is a fantastic resource that we must make the most of to bring our teams together and better enable our highly-skilled staff to learn from and share best-practice with each other. In addition to the significant cost savings these moves will bring, working collectively will be key if we are to achieve our ambition to be the number one bank in the UK for customer service, trust and advocacy. We are also opening up Gogarburn to customers and non-customers alike; providing a home for entrepreneurs, creating a centre for technology innovation and providing local communities and charity partners with access to facilities that can help support their growth."
The Gogarburn headquarters for RBS, designed by Michael Laird Architects comprises a 90-acre site in West Edinburgh which includes a landscaped campus of offices, a conference and training centre, leisure centre, staff club and nursery. The main office building of seven 'business houses' is arranged around a landscaped internal street. The tree lined street acts as the principal focus and circulation spine of the building with coffee shops, hairdresser, pharmacy, branch bank, shops and a supermarket. A Business School, developed jointly with Harvard Business School, is situated on an adjacent parkland site.
The Royal Bank of Scotland World HQ won the Scottish Quality in Planning Award 2006, the EAA Awards 2006 top prize [Silver Medal], Best Commercial Project & Best Interior Commendation at the Scottish Design Awards 2006, the Property Executive Magazine Awards 2006 Office Award, BCO Regional Award 2006 and a BIAL Landscape Award 2006 for the Interior Landscape. The building's sustainable design principles and energy efficiency have achieved an 'excellent' BREEAM rating.