August 25, 2015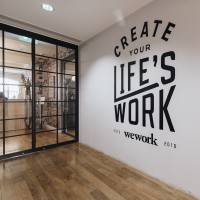 Coworking space and the growth of flexible are already having a major disruptive effect on commercial property markets worldwide, according to a study from real estate trade association CoreNet Global. The survey of members representing a diverse range of sectors found that the two most disruptive trends in the market over the short to medium term are flexible working environments (64  percent) and new technology (64 percent). The report, which has been issued to CoreNet members ahead of the organisation's 2015 EMEA Summit which will take place in London in September, claims that coworking spaces are capitalising on these trends to have a major disruptive effect on local property markets and are particularly attractive to occupiers from specific sectors such as those working in financial technology.
The main reasons given by respondents for using shared or coworking space were the ability to collaborate and share ideas with others (62.5 percent) and the potential to make use of available space when working remotely or overseas (50 percent).
Over the past few years, there has been an increased focus on co-working spaces in the UK tech sector, targeting both large-scale firms and SMEs. A strong example of this is Level39, the accelerator space run by Canary Wharf Group at One Canada Square, which has opened two further High Growth Spaces since launching in 2013, providing networking, events and mentorship programs. Level39is also a  sponsor of this year's Worktech London event.
As we reported recently, London is already a leading host city for  the coworking phenomenon and has already become a key target market for perhaps the world's best known coworking space provider WeWork.