August 10, 2015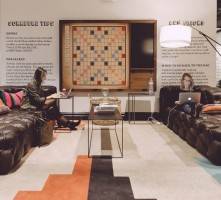 Changing attitudes amongst occupiers towards office space and the explosion in the numbers of freelance workers and microbusinesses are driving an upsurge in coworking and other flexible working environments worldwide. That is the key conclusion of a new report from DTZ which claims that the number of dedicated flexible working locations worldwide is likely to hit 50,000 over the next three years, with parts of London leading the way. We reported recently how coworking pioneer WeWork has already announced its plans to dominate London's commercial property scene in the same way it already does Manhattan's. Now, the How You Work report from DTZ suggests that this is the shape of things to come for many cities, with London leading the way alongside a tranche of global tech and creative centres such as New York, Berlin and Shanghai.
The study plots the evolution of flexible working from the 1980s right up to the present day and concludes that the most important factor right now in the way small businesses occupy space and larger companies apply flexible working practices is the provision of coworking offices and other forms of space dedicated to the consumption of the workplace as a service.
It claims that London is already setting the pace in this regard, with around 1,000 flexible working locations across the city. This sector accounts for around 5 percent of all office take-up across the globe and represents a 10 percent growth since 2010 in London alone.
The report identifies four key flexible working based regeneration zones in the cities upon which it focuses: Kings Cross in London, Dumbo Heights in Brooklyn, Factory Berlin and Fuxing Plaza in Shanghai. These are campus based areas, specifically designed to attract new and young businesses to an area, especially those working within key creative and technological sectors in the 'new economy'.
Sophy Moffat, Associate Director, Central London Agency & Investment and co­author of the report, said:  "The world of work is changing and flexibility is no longer sought by the tech, creative and media sectors alone, but by a growing pool of large corporate tenants coming into the flexible office market for the first time. Technology companies may have been first to customise their own unique experience around a core product, but there's a growing expectation that property should work like that too."
The report sets out ten factors driving the growth in flexible office space:
Economics and the requirement to reduce costs and increase efficiencies
Simplicity allowing companies to focus on their core business
Location flexibility in a period of strong demand for commercial real estate in the Central Business District
Growth and globalisation of the corporate world
Advocacy exemplified by the uptake of flexible working by corporates and government.
Entrepreneurship and the explosion of self­ employment
The proliferation of technology and the growth of digital economy
Connectivity and collaboration enabled by technology
Recruitment and retention in the war for talent
The growth in professional and corporate networks