March 17, 2022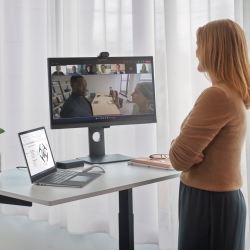 UK workers and their bosses are reaping the benefits of flexible working, according to new research released by Microsoft. According to Microsoft's latest Work Trend Index, the number of people working in a hybrid way across the world is up seven percentage points on last year at (38 percent), while 53 percent of people are likely to consider transitioning to hybrid working in the year ahead.
While many organisations in countries across the world are struggling to adapt to new ways of working that will see employees split their time between the office and their home, the UK is showing them how it should be done.
When UK staff were surveyed, 84 percent said they are as productive or even more productive compared to a year ago – higher than the global average of 81 percent. The UK figure is higher than Australia, Japan, Canada and many countries across Europe.
Less than half (43 percent) of business leaders in the UK who were surveyed said productivity had been negatively impacted since the move to remote or hybrid working. This is 11 percentage points lower than the global average, and much lower than the 84 percent recorded in China, 62 percent in India, 53 percent in Italy and 52 percent in France.
Organisations in the UK are seeing that productivity is not being affected by where their staff work. As a result, they are giving employees more say in deciding whether they commute to the office or work from home. Less than half (44 percent) of business leaders in the UK say their company is planning to require employees to work in-person, full-time within the next year. This is six percentage points lower than the global average.
UK staff appear to be in lockstep with their managers and like the freedom to choose how and where they work. Only 38 percent of workers in the UK who are currently working in a hybrid workplace will seek to be fully remote in the next year, compared with a global average of 51 percent.
Embracing flexible working
Nick Hedderman, Senior Director of Modern Work Business Group, said: "Microsoft's latest Work Trend Index shows the UK has not only adapted to flexible working but is embracing it – and reaping the benefits. This is encouraging as the UK rethinks how to be competitive on the global stage. Organisations will be able to attract and retain the very best talent from the hyper-competitive job market with this progressive thinking. The role of leaders has never been so critical in this change, as every person and team will have preferences. It's critical leaders have open and honest discussions with each employee and the team as a whole about what flexible work means for them to maximise their impact and nurture their wellbeing.
It's important that managers schedule regular conversations with employees; model, coach and care; be clear with their teams on the hybrid working strategy and ensure every meeting can be attended in person and online using tools such as Microsoft Teams.
For individuals, one of the most important considerations of remote and hybrid work is the impact it's had on relationships with colleagues. Last year's Work Trend Index revealed that teams became more siloed. However, this year the UK has bucked the trend again. Only 37 percent of business leaders in the UK say relationship-building activities are the greatest challenge of having employees work remotely or in a hybrid way, compared with a global average of 43 percent.
Hybrid workers in the UK are also less likely than the global average to feel lonely and are less likely to have seen working relationships suffer while working remotely.
Microsoft's 2022 Work Trend Index reveals findings from a study of 31,000 people in 31 countries, along with an analysis of trillions of productivity signals in Microsoft 365 and labour trends on LinkedIn.
The pandemic has led to a 153 percent rise in the number of weekly meetings and a 252 percent increase in weekly time spent in meetings for the average Teams user since February 2020. There has also been a 32 percent increase in chats sent per person since April 2020.
As a result an average Teams user has seen their workday increase more than 13 percent (46 minutes) since March 2020, and after-hours and weekend work has grown even more quickly, at 28 percent and 14 percent, respectively.
With so much demand for people's working time, employees are now more likely to prioritize their health and wellbeing over work than before the COVID-19 pandemic. Eighteen percent of staff changed jobs last year, with personal wellbeing or mental health and work-life balance cited as the top reasons. Forty-six percent say they are looking for a positive work culture, while 42 percent said they wanted mental health and wellbeing benefits.