January 13, 2022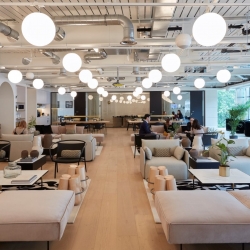 Members of flexible workspace provider LABS have expressed confidence over their businesses' prospects heading into 2022, with 92 percent of respondents to a survey, conducted by LABS, expecting their companies to grow over the next three years.
And, despite the impact of the pandemic, the office remains a hugely important asset for the thriving businesses within LABS workplaces, with 70 percent of respondents confirming that their office is, to at least some extent, still a strategic device for their business.
In fact, 60 percent of respondents said the pandemic has only had some impact or no impact at all on their workplace strategy.
This is evidenced by 94 percent of respondents also saying they enjoyed being in the office, with 47 percent citing colleague relationships as being the most important aspect of the workplace to them. Whilst 79 percent said that of second most importance was the opportunity for collaboration provided by the workplace, as well as colleague relationships.
The importance placed on relationships within the working environment and need for collaboration by the respondents is supported by 63 percent also saying that access to meeting rooms (24 percent), collaboration/break out spaces (22 percent) and café/bar spaces (17 percent) were highly important to them, and more essential/crucial than traditional work settings. Another 18 percent cited amenities, including phone booths, gyms, wellness facilities, auditoriums as being of prime importance to them.
Matt Watts, Chief Commercial Officer of LABS, said: "It is clear that flexibility and choice (for occupiers and employees) are key components of our new, emerging culture of work. At LABS, we specialise in meeting the needs of the modern worker through the provision of unrivalled amenities and thoughtfully designed spaces, and these results validate just how vital the office is as a tool for growth and employee wellbeing for organisations. It also indicates the importance of creating a flexible workplace model that empowers people to choose the best place for their work, whilst cultivating thriving cultures for creativity, innovation and success."
Reassessment goes on
Despite the importance of the office not being in doubt, Covid-19 has still forced people to reassess their working lives. 51 percent of respondents to the LABS Members Survey said they were seeking either a better work/life balance, or more flexibility in their working lives since the start of the pandemic.
Additionally, respondents to the survey reported that the top strategic issues for them included embedding culture (16 percent), achieving profitability (15 percent), developing new long-term strategic plans (14 percent) and retaining talent (14 percent).  Of least concern was headcount management (3 percent) and finding funding for their businesses (5 percent).
"This survey conducted by LABS provides further insight into its members workplace needs, its strategic importance in their working lives and how people are feeling about the office after nearly two years of upheaval caused by the pandemic," Matt Watts, Chief Commercial Officer of LABS, added.
"47 percent citing colleague relationships as being the most important aspect of the workplace to them is particularly salient – it reiterates the fact that face-to-face contact is still both necessary and vital for our wellbeing and productivity in the workplace. Video conferencing platforms such as Zoom may have revolutionised the way we work, but long-term success can only be achieved by balancing virtual convenience with meaningful experiences in the real world."