January 25, 2018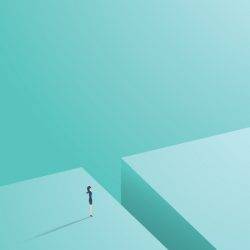 More than four in five (85 percent) of women and 80 percent of men report that they have witnessed gender-discriminatory acts at work suggests the results of new research by the Chartered Management Institute. The CMI's latest report 'A Blueprint for Balance: time to fix the broken windows' looks into gender diversity best practices, and found patchy results. Despite some leading exemplars, the majority of organisations are still struggling to make a meaningful difference to achieving a gender balanced workplace.  According to the report's survey of 856 managers, just one in four (25 percent) say that their peers and senior leaders 'actively and visibly champion gender initiatives'. The lack of action cascades down the ranks, with only 19 percent of junior and middle managers believing their senior leaders are committed to the target of gender balance in their organisations. This is in spite of a recent study by management consultants McKinsey that found globally the most gender diverse businesses are 21 percent more likely to financially over-perform than their peers.
Despite the introduction of new pay transparency reporting regulations in April 2017, only 8 percent of managers know the size of their organisation's gender pay gap. Two in five (41 percent) claim that their organisation does not have a gender pay gap, even though CMI research has found the average difference in pay between male and female managers to be 27 percent.
The CMI survey also reveals that less than a third of managers give their employers top marks in measures of the effectiveness of flexible working, pay and reward, and recruitment practices to promote gender diversity. The majority (59 percent) believe that their employer is failing to provide mentoring and sponsorship opportunities, and half (48 percent) say that their organisation's management culture does not support gender balance.
A Blueprint for Balance charts employers' current approaches to achieving gender balance, as well as the many persistent types of bias that continue to separate corporate rhetoric from the realities of today's workplace for women.
The report highlights the changes employers need to make to these so-called 'broken windows' in their organisation – the small acts of discrimination that make possible the bigger blockers to gender diversity. Examples include female managers interviewed saying that they are viewed internally as 'admin only' in their organisation, through to male colleagues taking unearned credit for their ideas. The fixes include practices like balanced recruitment, flexible working as the norm, and promoting leadership development programmes for women.
Ann Francke, chief executive of the Chartered Management Institute, says: "Achieving gender diversity is a priority business performance issue – gender-balanced companies financially far outperform their peers.
"While we're starting to see change, progress is stuttering. Employers have great intentions but our report shows there's still a yawning gap between the rhetoric and the reality of work for too many women. Leaders and their managers need to fix the 'broken windows' – the range of everyday biased attitudes, actions and practices that make possible the bigger systemic problems that women face. Only then will organisations build inclusive cultures where women, other minorities, and men, can thrive."
The report also features case studies of employers that are making strides forward to transform their workplace to make them more inclusive. These include financial services giant UBS's Career Comeback programme, which attracts women who have taken time out from work, helping the business tap into a wealth of talent.
Caroline Minashi, global head of diversity & inclusion at UBS, says: "As all organisations struggle to find women to fill senior leadership roles, we think we have access to a new talent pool that with a bit of creative support can make a fabulous contribution to the business."
CMI's Broken Windows campaign is encouraging women to share their stories of workplace discrimination and how they are tackling them. Email your story to: brokenwindows@managers.org.uk
Click here to download the Blueprint for Balance report