April 21, 2023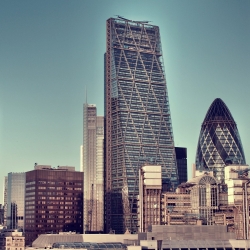 Savills latest global Prime Office Costs (SPOC) analysis has revealed that pricing for prime top-tier offices around the world has largely held steady during the first quarter of 2023, with net effective costs – the 'all in' cost for occupiers – increasing an average of 1.1 percent.
The international real estate advisor says that face rents are also beginning to marginally increase, rising an average of 1 percent in Q1, as the continuing desire for best-in-class office spaces for occupiers and for their staff drives demand. Savills says, however, that there are some regional variations: US markets saw flat rental levels and net effective costs during the first quarter, continuing the trend from 2022 where landlords seem to be keeping pricing steady in the face of inflation and other rising costs to help attract and retain tenants.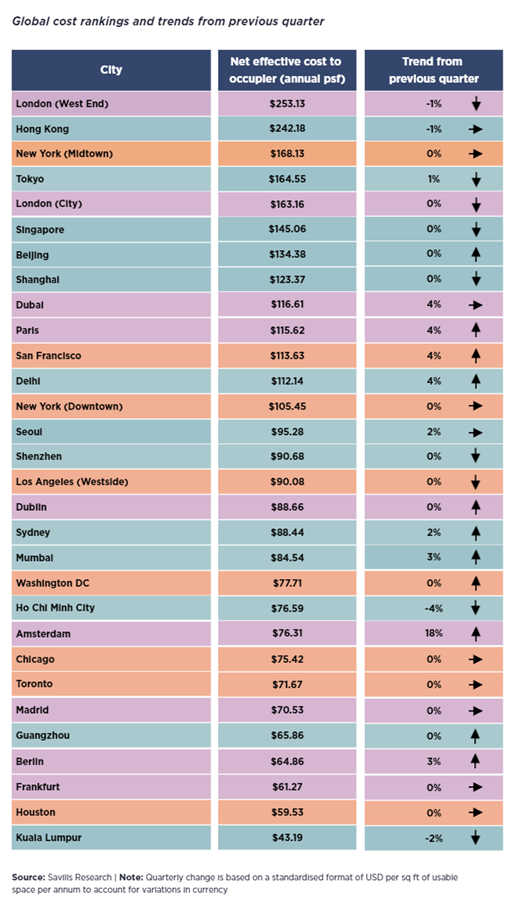 In EMEA, meanwhile, locations experienced cost increases of 3 percent on average. Amsterdam saw the strongest levels of cost increases in the region, by 18 percent as rising fit-out costs have now filtered through to occupiers. Other cities seeing increases in costs include Dubai (+4 percent), Paris (+4 percent), and Berlin (+3 percent), with most of these locations seeing rises in rental costs rather than fit-out costs. Costs across Asia Pacific office markets remained largely consistent in Q1, reports Savills, as the region has proved less volatile in the face of global economic headwinds.
Christina Sigliano, head of EMEA occupier services at Savills, comments: "While there have been many headlines about corporate occupiers' space strategies lately, largely led by some turbulence in parts of the tech sector, the fact is that prime office space remains in high demand in many key markets, and this is reflected in the all-in cost to occupiers rising an average of 1.1 percent in Q1. With pipelines of top space continuing to look slim in many cities, those looking to move – not just those in the next 18 months, but beyond this – need to start considering their options now."
Kelcie Sellers, associate in Savills World Research team, adds on the tech sector: "Whilst there is turbulence in the tech market, resulting in space reconsideration for some occupiers, the office remains a focal point for the sector, however, its use is changing. Big tech has seen the main challenges, although there are pockets of growth in some locations and within specific sectors. There are opportunities for those growing tech firms to benefit from the space being released by others, which is generally high quality and can help to attract talent."