July 10, 2019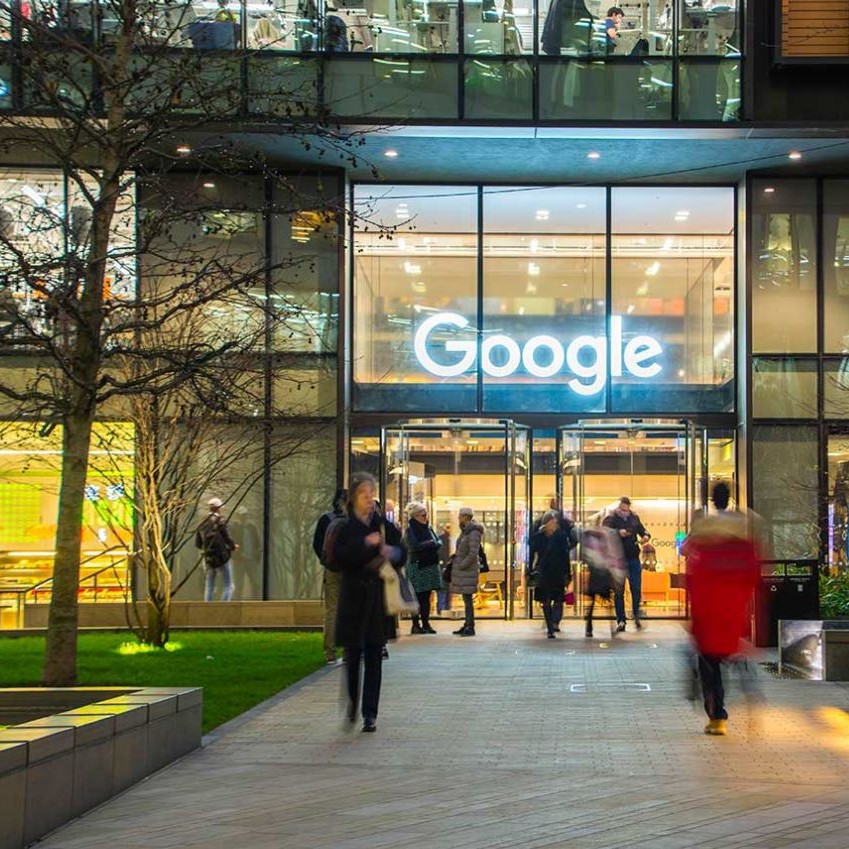 Universum Global has launched the findings for the UK portion of its annual Global Talent Survey (registration) which claims that Google is the UK's most attractive company to work for by graduates for the seventh consecutive year. Universum studied 39,500 students from 97 British Universities to understand the career aspirations, goals and workplace requirements for graduates.
Whilst Google continued to prove popular with those studying business and STEM, their applicant pool continues to widen with humanities and law students both ranking the organisation in their top two and four companies to work for respectively. The company's highly coveted graduate schemes and internships are in high demand and Google is renowned for rewarding its employees with highly competitive salaries and employee benefits – all combining to make the tech giant an attractive workplace for students across multiple disciplines.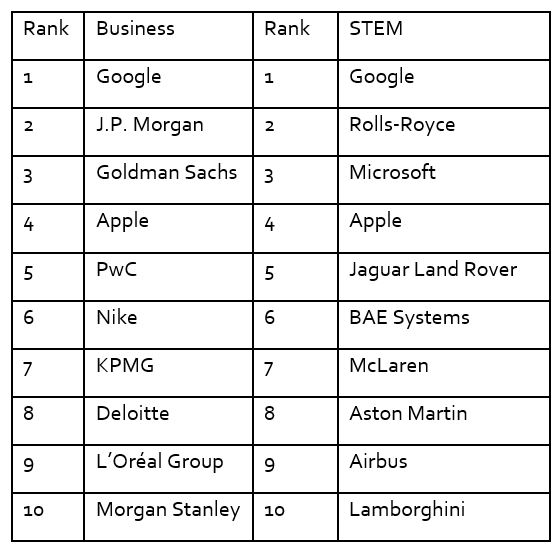 Increased interest in tech and innovation roles is a trend being reflected across many subject areas. UK STEM talent are looking for industries that embrace innovation and new technologies, and careers that will see them competitively and intellectually challenged. As a result, STEM talent are looking beyond traditional engineering roles to automotive and aeronautic employers like Rolls-Royce, Jaguar Land Rover and BAE Systems.
Explaining the move towards innovative, technology-driven companies by STEM students, Universum UK spokesperson, Nicola Kleinmann said "Electric cars, self-driving cars and an increase in safety globally, has recaptured STEM talent's interest in the automotive industry. The UK has a rich history of founding some of the best-known car firms in the world which could be why the industry has cemented its place at the forefront of the STEM top 100."
No more traditional roles
The move away from traditional roles associated with subject choice is also reflected across the business student market. Where previously banking had been a high career choice, business students are seemingly less interested in the sector as Deloitte slumped two places in comparison to the 2018 Global Talent Survey. Multi-national Morgan Stanley now sits in tenth place after falling three places since the previous year, meanwhile US firms J.P. Morgan and Goldman Sachs retained their respective second and third places, while tech giant Apple climbed the ranks into fourth.
Brexit is obviously a factor that is weighing on the minds of young talent when they consider which industry to start a career in
The wane in interest may be a demonstration of the wider impact Brexit uncertainty has had on the banking industry over the past year.
Universum Managing Director for Nordics, UK and Ireland, Claes Peyron said "Brexit is obviously a factor that is weighing on the minds of young talent when they consider which industry to start a career in. When we conducted our 2019 survey, the deadline for Brexit was set for March, and there was a lot of media coverage during the field period on which industries would be affected the most. Banking is obviously one of those industries, and this could be why we are seeing varied success rates of employers trying to attract business talent, despite their increased talent attraction efforts over the past few years".
"It was only two years ago during the release of our 2017 UK rankings when we reported that Brexit had no effect on talent wanting to join the banking industry, on the contrary more wanted to join than in 2016. However, I suspect that the closer we have gotten to the deadline, the more unsure talent have become about joining an industry where jobs are reported to be heading to the continent."
The results claim how forward-thinking students are catching onto the fact that UK jobs in the sector are becoming few and far between, creating a challenging environment for those looking for long term careers in the sector.
High earnings remain priority
Although the job hunting environment might be challenging, graduates studying both business and STEM subjects are still focused on what they want from long term careers with high future earnings viewed as their number one priority for the workplace.
In stark contrast, those studying sciences and medicine were found to value professional training and development as well as a clear path for progression, over salary. Overall Gen Z students have higher expectations when predicting their annual salary versus millennials. Business students predicted a salary of over £28,000 for themselves, whilst engineering students expect £30,000, a 30 percent increase on the national average of £23,000 for graduates.
The wider findings also delved into the media habits of students and found that Facebook, Instagram and most surprisingly, YouTube were amongst the top five most used online platforms used to learn about future employers, ahead of employer focused resources such as Glassdoor and the Times Top 100 across both business and STEM students. A huge 27 percent of students favoured YouTube, supporting the growing trend in how millennials and Gen Z are interacting less with traditional media and official outlets in favour of online and social media platforms.