June 27, 2014
The UK Government needs to act on the growing issue of wasted commercial property space in Greater London, and it needs to do so as a matter of some urgency. Statistics from the Department for Communities & Local Government (DCLG) show that since 1998, a worrying 58 per cent of London boroughs have seen vacancy rates either increase or stay the same. What is most concerning for businesses in the London region is that this rising figure, coming at a time when commercial rents are soaring, has gone unchecked since 2006, the time at which the DCLG stopped collating the data because of budgetary cuts. One of the worst performing boroughs is the City of London, which has seen a 100 per cent increase in vacant commercial properties during the period from 1998 up until the point at which the DCLG stopped publishing data.
Some of the other worst-offenders include:
Ealing (40%)
Hammersmith & Fulham (44%)
Kensington & Chelsea (200%)
Hillingdon (40%)
Responding to a Freedom of Information (FOI) request from Condeco on why the government hasn't published vacancy rates for the past eight years, the Greater London Authority told us: "The DCLG don't publish a lot of the data they used to. They made major cuts on more than one occasion as they tried to prioritise following funding cuts."
I am astounded at the lack of intelligence shown by this government when it comes to commercial property. Businesses in London are increasingly coming under strain from high rental costs, yet across the capital we're seeing new build after new build, approved by the government as a means of easing the burden on the city as demand for space increases.
Simultaneously we're also seeing vacancy rates increasing, whilst having this data removed from the public eye. If the space is there, why is the government not encouraging people to use it, with tax breaks for companies who can consolidate their real estate and free up space for other businesses for example?
There is a real problem here that David Cameron needs to address, before we build more and more in our already crowded city.
__________________________________________________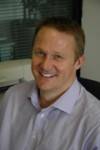 Paul Statham is the managing director of Condeco, a global workplace management software and systems provider based in London. www.condecosoftware.com