June 27, 2014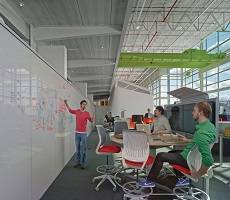 In these post-recession times, companies are investing heavily in their operations and the UK business community definitely has more of a spring in its step. Now, more than ever, it is important to have the right team on board and employers are now finding that their biggest challenge is how to attract and keep high quality personnel. It is becoming increasingly clear that an attractive salary package alone is simply not enough, even with benefits. More than ever before, workers are thinking about the quality of life which a job can provide and an intrinsic part of this is a working environment which will provide a sense of wellbeing. If companies are going to attract and retain the very best staff, they are going to have to think about how to provide this, because the physical workplace can be a powerful means of providing an environment in which people can thrive. Research has shown that there are six dimensions to be taken into consideration when striving to create a workspace which will provide a sense of wellbeing.
These are:
• Optimism (allowing choice, personalization and control)
• Mindfulness (offering calming places that encourage interaction)
• Authenticity (creating informal, non-restrictive environments)
• Belonging (welcoming and well-equipped spaces)
• Meaning (aligning workers with a vision through space)
• Vitality (supporting active, healthy lifestyles with movement and visibility)
Businesses which focus on these dimensions are doing so because they have identified the potential emotional, financial and competitive advantage. The mountain of research on wellbeing points very clearly to it being in a company's interests to take the matter seriously.
In the UK alone, £15 billion a year is lost to health-related presenteesim (where people are at work but not fully engaged) and 60% of lost work days are due to stress. In companies where workers report high levels of stress, healthcare costs can rise by 50%. Conversely, where workers are fully engaged healthcare costs for employers drop by 41%.
Recent global research has bears witness to this.
• 30% of European workers say they are exposed to stress.
• 27 million working days are lost to work-related illness or injury.
• £15 million is spent per year on mental health 'presenteeism' in the UK alone.
• 41% drop in health care costs for employers whose workers enjoy thriving sense of wellbeing.
• 72% of workers report for work despite being unwell.
• Workers in open plan offices take 63% more sick days than those working in personal offices
• 80% of infectious diseases are transmitted by touch.
What we are seeing now is the need, if full productivity is to be maintained, to consider the whole person at work -mind, body and soul.
Research into the way people work has yielded a great deal of evidence to show that there are steps to be taken that can reduce friction in the workplace and improve the potential of employees.
By providing an environment in which workers mental and physical health is safeguarded, a company can take full advantage of the momentum the business world is currently enjoying and thus will be more able to preserve and enhance the formidable recovery.
To attract the right talent it is important to build a strong employer brand. Making sure the company's culture is perceived to be collaborative, innovative and fair is one of the key factors to hiring and retaining the best staff.
Providing employees with a work space which is designed to create a sense of familiarity and belonging is vital, not only to encourage dynamic and creative thinking, but it is an affirmation of a company's commitment to its staff's wellbeing. Once a worker becomes accustomed to the benefits of such an environment, they will not wish to leave.
______________________________________

Bostjan Ljubicis is the vice president Steelcase UK and Ireland. bostjan.ljubic@steelcase.com www.steelcase.com