May 30, 2016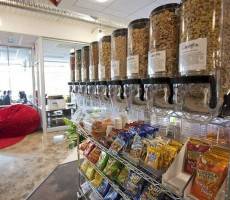 An effective workplace is one that helps employees to feel relaxed, motivated, and safe. From my point of view, the latter is especially true. I believe that health and safety becomes a lot easier when it is built into the fabric of the building itself. The Google workplace has been praised for its great design, and it's easy to see why. Alongside the eccentric features and the myriad of differently styled rooms is a serious commitment to the wellbeing of its employees. The design of the Google canteen (above) means that sugary snacks are stored in translucent containers at the back, but healthier options such as fruits and nuts are stored in transparent containers at the front. The idea is to encourage employees' to be healthy using workplace design. This is just one example a company that has built safety and health into the fabric of their building rather than absent-mindedly forcing it upon the workplace as an afterthought.
After all, it's not just the well-built elegance of Asos and Coca-Cola's London offices that make them so safe, but the way they make employees feel. Mental health and workplace safety are linked in much more intimate ways than previously thought, and it's for this reason that the Health and Safety Executive (HSE) is delivering courses about how to improve employees' moods in order to improve workplace safety.
Although it is a lot harder to make a badly designed workplace safer, it's not impossible to do so. A workplace can be turned around with the right know-how, and the first step for any big or small business should be a safety inspection to see if there are any glaring issues that can be solved easily. Safety experts are more than happy to share their input and with their support you'll have the confidence to move forward in creating a safer and more inspiring work environment. In the end, you might find it taking less time and effort than you'd previously anticipated.
The Google workplace is an exemplary model of a workplace that been designed for success. The lazy perception is that it's just filled with great "perks", but it's more complicated, and more brilliant, than that.
As business journalist Mark C. Crowley puts it, Google's workplace is a democracy that has greatness built into "its DNA". The democracy thing is especially relevant to safety. It's not just about telling your employees to be safe; it's about involving them in the discussion about what is and what is not safe. Safety training can also be of benefit to your workplace staff feel invested in, and there is the added benefit of firming up your employees' knowledge of often overlooked topic in business.
It's clear that in forward thinking companies' workplaces — Google, Coca-Cola, or Asos —the message is clear: a better, safer workplace means better, safer employees. The reason design is so important is not simply because it prevents slips and trips, but because it makes employees feel safer, act safer, and do better.
____________________________________

Justin O'Sullivan is the owner of Storage Equipment Experts.