July 29, 2020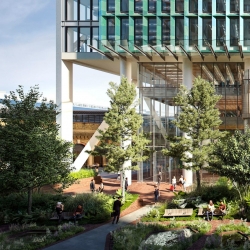 The UK Green Building Council (UKGBC) and Sustainable Ventures (SV) have together published the Open Innovation Levels Framework, a resource aimed at enabling open innovation with the goal of reducing the climate impacts of the built environment.
Around 40 percent of UK carbon emissions are attributable to the built environment which requires significant innovation to reduce its impact. Recent research shows that, in London, innovation is the most frequently identified soft skill required to respond to recent trends in the built environment, with the same research identifying the most significant trend being the climate crisis.
As part of a project to accelerate open innovation, funded by EIT Climate-KIC, UKGBC and SV carried out interviews, desktop research and workshops with innovators and large corporations operating in the built environment sector to identify the needs and barriers currently preventing significant innovation. This research identified that in many cases the power to overcome barriers to innovation lies with large corporate organisations. 45 percent of all barriers identified related to corporate culture, including attitude to risk, lack of systems thinking and lack of incentives.
The Framework claims to provide a step-by-step guide on how corporates can engage in open innovation and reach effective solutions. It is divided into 4 key phases – challenge definition, scoping, engagement, and collaboration – each of which are broken down further into 8 levels with associated actions. This shared process creates a common understanding of open innovation between corporates and innovators, increases transparency, and enables more efficient and timely engagements.