January 28, 2021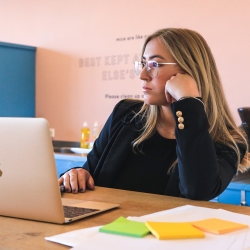 Mass redundancies across the UK are having a huge impact on the discretionary effort employees are willing to undertake on behalf of their employer, according to research from career transition firm Randstad Risesmart UK.
Before redundancies have taken place, approximately a third (34 percent) of 2,000 workers in the UK confessed that they were 'just going through the motions'. However, after a round of redundancies, more than half of the survivors who had retained their jobs (54 percent) admitted they were 'just going through the motions'.
Simon Lyle, UK managing director of Randstad Risesmart said, "The majority of people left in organisations after a round of layoffs – the survivors – are just treading water. In December, the ONS said the number of employees on payrolls had fallen by 819,000 since the start of the pandemic – this means the UK is now blighted by hordes of zombie employees. Punchdrunk from being asked to pick up extra work previously handled by now departed colleagues, these staff are lingering in the twilight zone of employment – neither recovering their mojo for work nor dropping out to seek jobs elsewhere. The sad fact is that Britain is full of zombie companies, employing vast numbers of zombie workers. And while the banks may not have pulled the plug on companies unable to cover debt-servicing costs from long-run profits, you can't expect demotivated zombie workers to turn them around either."
The deadline for more redundancies
Furlough is due to end on the 30th April. Given the reaction of employers towards the end of the original furlough scheme, Risesmart says that, since redundancies programmes of over 100 employees require a consultation period of at least 45 days, employers making large-scale lay-offs will begin putting employees into consultation six weeks before the furlough is due to end – the week commencing 15th March.
"The majority of people left in organisations after a round of layoffs – the survivors – are just treading water."
Simon Lyle continues, "Increases in the unemployment rate have been surprisingly modest so far, thanks to the government's extraordinarily interventionist furlough scheme. But Rishi Sunak is fighting a losing battle against ­economic reality. While furlough has put a large chunk of the jobs market in a holding pattern, the chancellor's problem is that the plane is running out of fuel – the country can't fly on like this indefinitely. The jobless rate is bound to rise when Sunak finally winds the scheme down. The Bank of England said in November that it expected unemployment to peak at almost eight percent this year, far ahead of the current rate. On the Ides of March – the Roman deadline for settling debts, many modern day companies will have to start balancing their own books, and unfortunately redundancies will follow.''
More expected from 'survivor workers'
Despite the fact that 'surviving' workers are less inclined to make discretionary effort on behalf of their employers than before redundancies are announced, 42 percent of survivors report that their managers expect them to undertake more work.
However, there is some good news for employers seeking to do 'less with more' after a restructuring. The Risesmart study suggests that the negative impact of redundancies on surviving employees can be mitigated through the use of outplacement.
After a round of lay-offs, roughly a third (34 percent) of surviving employees describe themselves as "currently less engaged than I was before the redundancies". However, this falls to 6 percent in companies that treat departing employees well – by, for instance, offering them outplacement assistance as they look for new jobs.
Similarly, only 18 percent of employees describe themselves as more engaged after a round of redundancies – while 54 percent of employees in firms employing outplacement services say "I am currently more engaged than I was before the redundancies".
Simon Lyle concludes, "Outplacement, redeployment and career development services can make all the difference not only to those being made redundant and an organisation's employer brand – but also to those workers who remain. Taking care of the people that you have to let go demonstrates you're a good employer while just casting them adrift sends out its own clear message to your remaining workers – your money isn't where your mouth is."
Image by magnetme