January 23, 2020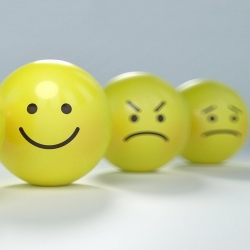 Six in 10 people feel unable to express their true emotions in the workplace, new research has claimed. In a survey of 2,000 UK workers and 250 line managers by Totaljobs and Dr Terri Simpkin, a Visiting Fellow at Anglia Ruskin University, most workers said they prefer to deal with emotions on their own. This was particularly true of sadness, which 60 percent chose to handle themselves rather than asking for help.
The research also suggests that the reason many workers feel unable to express their feelings is because of their manager's attitude. Some 30 percent of line managers surveyed consider the expression of emotions at work to be a sign of weakness and more than half believe emotions should be suppressed altogether in a professional context.
"Emotional intelligence is a key professional capability, particularly for leaders and managers", Dr Simpkin said. "Our emotions are what make us human. They give us our capacity for collaboration, innovation, creativity and connection.
"Traditional attitudes which taught us to leave our emotions at the door should be long gone.
"Emotions are designed to communicate something to us. Recognising the message rather than suppressing it is key to dealing with emotions effectively.
What's making us so emotional?
On a positive note, the survey found that of the "big six" emotions, joy topped the results. Nine in 10 respondents (91 percent) had experienced this emotion over the course of their careers, followed by surprise (90 percent), anger (85 percent), sadness (82 percent), disgust (71 percent) and fear (61 percent).
The results suggest that the most common cause of these emotions isn't the work itself but those we're working with. A third of emotional events in the workplace are apparently triggered by colleagues, whereas only one in five are sparked by tasks themselves. Totaljobs warned that co-workers aren't always bringing joy into people's working lives: one in 10 workers surveyed felt emotional at work because they had been bullied by a colleague.
These emotional encounters can end up developing into something much more significant. Previous research conducted by Totaljobs found that six in 10 workers consider a colleague a "work enemy".
Men are twice as likely as women to start shouting (43 percent vs 26 percent) and twice as likely to get emotional because their "ideas weren't heard" or because they "were criticised".
Men are 'more emotional'
The research claims to have identified a clear divide between how men and women express their emotions in the workplace. It says women are twice as likely to cry in the workplace compared to male colleagues (41 percent vs 20 percent). In turn, men are twice as likely to start shouting (43 percent vs 26 percent) and twice as likely to get emotional because their "ideas weren't heard" or because they "were criticised".
Men also seemed to be more emotionally invested in their projects. They were almost three times more likely to get emotional because a project went over budget, missed a deadline or got cancelled.
Men were also most likely to take the definitive career step and quit a job (20 percent vs 11 percent) when triggered by their emotions.
"Men are more likely to report experiencing emotions associated with power, such as anger or pride", commented Dr Simpkin. "In fact, emotions and power are inextricably linked. Not being heard is congruent with lacking in status. Similarly, sadness is associated with a lack of power in social settings such as the workplace."
Things get better with age
While men and women may differ, our emotions evolve as we get older, the research suggests. Millennials undergo a particularly emotional ride, being the age group most likely to experience sadness (91 percent), anger (91 percent) and disgust (80 percent) in the workplace.
However, workers begin to express more joy and surprise as they grow older. They also get less sad, angry, disgusted and fearful. Experiences of workplace fear fall from rates of 77 percent among millennials (23-38) to just 45 percent among workers aged 55-73.
"It can be challenging for young people to develop an identity that's congruent with their professional role," said Dr Simpkin. "They may experience fear of failure, fear of success and fear of not fitting in."
Commenting on the research, Lynn Cahillane, Head of Marketing at Totaljobs, said: "Expressions of sadness or anger point to the fact that someone is probably overworked, stressed or frustrated in their role. Rather than seeing tears or emotions as a sign of weakness, employers should take them as a cue to listen, learn and understand the underlying issues. Emotional employees aren't problems, they are a chance to help us learn how to create a better workspace."