March 1, 2022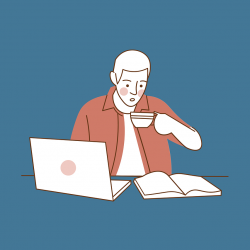 Over half of employees believe their home office set-up falls short of standard workplace amenities, a new poll claims. The study from Brita and Oktra (page includes promotions) claims to highlight the value of functional design and the impact well-designed workspaces have on employee wellbeing, engagement, and productivity.
More than half (54 percent) of office workers say that, despite the rise in home working over the last two years, their current home office set up still falls short of office amenities compared to their office, with lack of space (70 percent), lack of funds to buy office furniture (46 percent) and sharing space with children (26 percent) preventing employees from having a well-designed work environment at home.
A further 76 percent say that they have found it harder to maintain consistent healthy habits while working from home, such as taking breaks, staying hydrated, healthy eating, and regular exercise.
Other findings include that 93 percent of office workers say they would be more likely to accept a job which offered a well-designed workspace. Meanwhile, shared space for socialising (38 percent), ergonomic desk set-ups (38 percent) and hot and cold beverage amenities (36 percent) are among the most valued design elements of a workplace.