June 17, 2016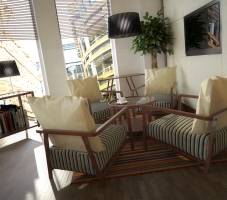 Most workers now look for flexibility in where and how they work finds a new survey from the British Council for Offices. But this doesn't mean homeworking; as less than a third (28 percent) of workers now say they would prefer to work from home, a figure that has dropped from 45 percent in 2013, when the research from the BCO and Savills was last conducted. Over three-quarters of respondents (77 percent) said that they currently work in a traditional office, with the majority (60 percent) choosing to work from a dedicated workstation compared to only four percent that are asked to share desks with colleagues. This desire for a dedicated desk has increased over the past three years, rising from a figure of 41 percent in 2013; but despite demand for a dedicated desk, most workplaces (70 percent) now also include a communal environment to work from, providing a space for more dynamic working.
The third edition of the What Workers Want study has harnessed the opinions of over 1,100 British office workers in order to assess the needs of the individual worker and identify trends in the sector which will affect the future of workspace design in the UK.
It seems the key to meeting workers' needs is to enable people to work from a variety of locations within the office, as deemed as important by almost a third (29 percent) and almost half (48 percent) considering access to collaboration space with colleagues as an imperative. Choice and control are vitally important, with workers wanting to be able to choose how and where they work, while also having a desk space to call their own. For a third of respondents (33 percent), this would go as far as choosing to work from a standing desk sometimes if the facilities were available.
Although workers desire a clear element of control, 42 percent of those surveyed deemed their office culture as discouraging flexible working. This is why the results outline why more thought needs to be given to what goes into creating an optimum working environment that can adapt to different working styles.
Whether providing fixed workspaces or more flexible approaches, the productivity impact of the workplace still has much potential to be realised. 45 percent of those surveyed deemed the workplace to have no impact on their productivity, while a quarter of respondents (25 percent) stated that their workplace actually decreases their productivity levels. Pointing to the opportunity that exists, half of workers surveyed (50 percent) agreed that if the internal design of their office matched their 'ideal', it would increase their productivity levels.
The research identified the most important factors perceived to be driving employees' sense of wellbeing, and satisfaction with their workplace. It found:
Getting the basics right is of most importance: comfort (87 percent), lighting (86 percent) and temperature (85 percent) are the three most important factors affecting employees' wellbeing at work
Length of commute to the office is also paramount, with 86 percent saying it is of most importance to them. Despite this, two in five (40 percent) are dissatisfied with their journey to work
Noise level also ranks highly amongst the factors impacting employee's wellbeing –  but is an aspect of their office which many employees are dissatisfied with; 71 percent say having quiet areas to work from is important to them, but only 30 percent are satisfied that they currently have this
Richard Kauntze, Chief Executive of the British Council for Offices, said: "What Workers Want is an important piece of research as it provides a clear understanding of what office occupiers need and expect from their workplace. In an age where people are, arguably, more focused on their wellbeing than ever, businesses must have a view of the role an office plays in enhancing this.
"This analysis shows that in trying to create the optimum working environment, organisations cannot look to adopt a one-size-fits-all approach. It is essential that the specific needs of employees are listened to, equipping business leaders with valuable insight that can ensure the office helps boost wellbeing and productivity. While getting this right can be complex, there are often a number of quite straight forward factors that can have a significant impact. In listening to what a workforce wants and reflecting this in the workplace, the rewards can be considerable."
Steve Lang, Director, Savills Research and author of the report, added: "For employers, ensuring that the office is a space in which workers feel comfortable and cared-for isn't just the right thing to do – it also makes business sense, helping to both attract new staff and retain the best talent. While our concept of what a 'good' office is supposed to look like may be shaped by photographs of innovative fit-outs at high-profile companies, it's important not to forget the basics.
"Comfort, temperature and lighting are consistently the most important considerations for employees; the focus should be on getting the fundamentals right rather than trying to reinvent the wheel."
For more information on the research visit the BCO website.