June 17, 2016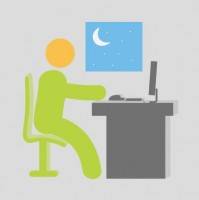 The behaviour and attitudes of young people in the workplace are very similar to those of older generations. We keep repeating this point but it's always worth reminding ourselves given the prevailing narratives that obscure this truth. Indeed, so powerful is the narrative that even when a piece of research or a survey contradicts it, there is often an attempt to ignore the report's own finding's in favour of something that fits the meme. This happens more often than you think which is why it's always worth going beyond the headlines to look at what lies beneath. This week, two reports have appeared which highlight just how much a younger generation of workers shares the same attitudes and challenges as other generations. According to the reports, this is true for issues such as presenteeism and the need for the company of colleagues and so suggest we don't need to treat different age groups quite so differently as is often claimed.
In the first report from Ricoh in partnership with YouGov, it is claimed that 67 percent of UK 18-26 year olds (1.2 million people) admit to faking their workloads and staying late at the office to impress their bosses and colleagues.  The study, Overhauling a culture of presenteeism at work, claims that 39 percent of young people believe working away from the office could damage their career progression, while 41 percent feel their bosses favour staff that work longer hours in the office. Two in five (39 percent) young professionals believe working away from the office could damage their career progression.
Respondents to the survey believe that employers and the government needs to do more to support flexible working, with 58 percent of respondents calling for the government to educate employers more about the benefits of flexible working and 39 percent want more education for businesses about employees' rights around working.
Meanwhile, a second survey of 2,500 15-18 year olds across Northern Europe suggests that their attitudes towards face to face meeting are not so different from those of existing employees. The study from Fuze, produced Katie Davis and Howard Gardner of Harvard University and The University of Washington respectively, found that 69 percent believe it's important to meet people face to face if you work with them. Around two-thirds (67 percent) also confirmed they want to work with other people as part of a team.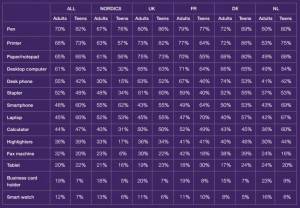 The survey throws up some interesting comparisons between the attitudes of young people to technology. While we've mentioned before the inexplicable attachment of some older workers to the fax, the survey suggests that just as many younger workers see paper as an important tool as their older colleagues. Indeed, when it comes to 'essential' items, the top three are the same for both teens and today's workforce – pens, printer and paper.
Perhaps less surprisingly, only 24 percent of teenagers currently use a landline more than a handful of times a week, compared to 91 percent that use a smartphone 'all the time'. Almost three-quarters (74 percent) of teens use a laptop at least 3-4 times a week, compared to 40 percent for a desktop computer. What this suggests is that there is at least a generational gap when it comes to communications technology, less so for productivity tools.
One point at which the Fuze study mirrors the Ricoh study is in the gap between expectations and practice when it comes to flexible working. However, this is cross-generational as workers of all ages would like to work more flexibly but are held back by their employers and a lack of appropriate technology.
The authors conclude that there will be a fusion of the physical and digital workplace but that the office itself will continue to play an essential albeit evolved role for people of all generations.