July 9, 2018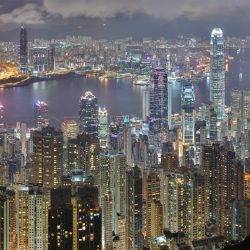 Hong Kong Central remains the most expensive office market in the world, according to CBRE's annual Global Prime Office Occupancy Costs report. Hong Kong Central's overall prime occupancy costs of US$307 per sq. ft. per year topped the "most expensive" list, followed by London West End (US$235 per sq. ft.), Beijing Finance Street (US$201 per sq. ft.), Hong Kong Kowloon (US$190 per sq. ft.) and Beijing Central Business District (US$189 per sq. ft.).
Global prime office occupancy costs—which reflect rent, plus local taxes and service charges for the highest-quality, "prime" office properties—rose 2.4 percent year-over-year, with the Americas up 3.2 percent, EMEA up 2 percent and Asia Pacific up 1.7 percent.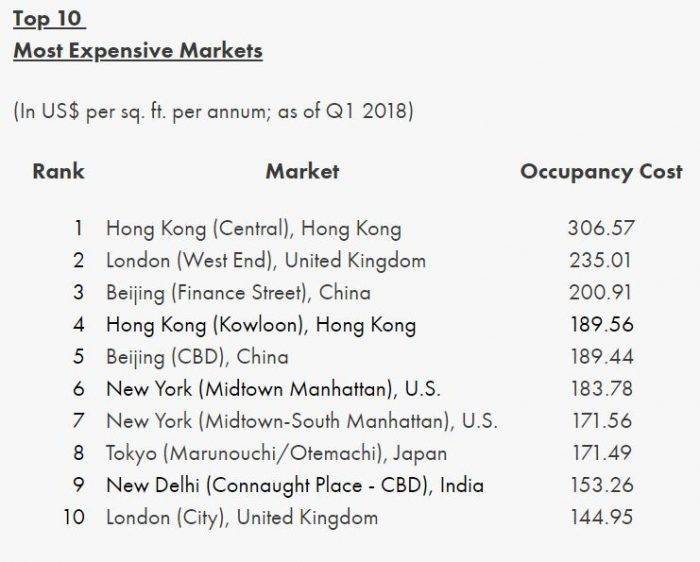 "For the first time in this cycle, prime office occupancy cost growth was consistent across all regions," said Richard Barkham, global chief economist, CBRE. "Global economic growth has stimulated robust leasing activity, particularly in EMEA and APAC. While occupancy cost growth in the Americas slowed slightly compared to a year earlier, it remains the region with the overall largest increase in costs. We expect global office occupancy costs to increase by approximately 2 percent in the year ahead."
Durban, South Africa, fueled by strong demand from business-process outsourcing companies, had the highest increase in year-over-year occupancy cost overall, followed by Bangkok, Marseille, Vancouver Downtown and Oslo.
Vancouver Downtown showed the largest increase in the Americas, followed by Downtown Manhattan, Toronto Downtown, Los Angeles Suburban, Midtown South Manhattan and Dallas Downtown. Costs in Midtown South Manhattan reached an all-time high as strong demand for premium space continued.
In Asia Pacific, Bangkok had the highest growth, followed by Hong Kong Kowloon, Singapore, Melbourne and Wellington.
Durban, Marseille, Oslo, Stockholm and Berlin led EMEA in occupancy cost growth.
Dubai, Shanghai Puxi, Midtown Manhattan, Moscow and Abu Dhabi saw the largest decreases year-over-year.
"The dominant trend among markets with notably rising prime occupancy costs is strong demand from the finance, technology and e-commerce sectors," said Dr. Barkham. "Markets with declining occupancy costs are primarily affected by supply/demand imbalances resulting from new completions. Since reduced costs due to excess inventory tend to be relatively short-lived, companies looking for space in those markets should move quickly."