July 9, 2018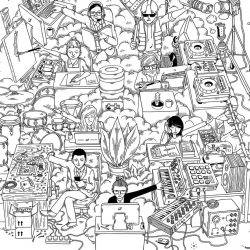 Academics at Henley Business School have revealed a growing trend in 'side hustles' which shows that as many as 1 in 4 people in the UK are running at least one business project alongside their main day job, contributing an estimated £72 billion to the UK economy. Henley has published a white paper on the emerging side hustle economy. Its study of over 500 business leaders and 1,100 UK adults found the trend is now happening at an unprecedented pace across the UK.  A side hustle is defined as a secondary business or job that brings in, or has potential to bring in, extra income. 73 of people who start a side hustle do so to follow a passion or explore a new challenge, but there are financial benefits too, with side businesses contributing 20 percent to side hustlers' income.
Despite a quarter of these side hustlers working a 50-hour week – almost 13 hours more than the average UK worker* – they report feeling happier and more content in their main role and as many as 69 percent said side hustles make life feel more interesting.
Side-hustling is currently more common among men than among women (30 percent men, 21 percent women), however women are catching up, with over 62 percent of side-hustling women having started up in the past two years (versus 48 percent among side-hustling men).
Henley says one of the reasons for this increasing trend could be a result of a shift in millennial attitudes towards work and advances in technology, which makes it easier for people to run a business from their phone. Its growth is exponential, with the study revealing that over half (53 percent) of the UK's side businesses were only created in the last two years. What's more, Henley anticipates that by 2030 the number of people with side hustles could increase to 50 percent of the UK population.
Despite its undeniable contribution to the UK economy – approximately 3.6 percent to the UK's GDP – the burgeoning side hustle economy prompts an interesting debate among the business community.
Those business leaders which are supportive of the trend believe there are some big benefits: 49 percent feel that allowing the practice helps to retain their best people, while half of business leaders said that allowing the practice actually helps them attract top talent. Over half (60 percent) feel that it makes their people more productive and happier.
Businesses need to wake up
The study shows a number of UK businesses have not woken up to seeing the side hustle as a positive which can boost employee skillsets, aid innovation and build on contact networks. As many as 54 percent of business leaders remain ambivalent about the benefits to business and over half have no formal policy around it.
According to Henley this complacency could cost UK businesses £340 million a year, if top talent leave to pursue jobs with more supportive, flexible employers.
Professor Bernd Vogel, Founding Director of the Henley Centre for Leadership, says: "With 25 percent of adults side-hustling today, there is no way back. Those who have the appetite and confidence to go it all alone as an entrepreneur, will not let the chance slip. We can expect growth in side-hustling, possibly even doubling, in the next ten years, especially if Human Resources in organisations makes side-hustling an element of its toolkit and facilitates outside and internal side hustles as instruments for purpose, rewards and innovation."
Naeema Pasha, Director of Careers, Henley Business School, says: "A side hustle gives people a sense of control over their own careers, rather than give all the power of a career to a company. One reason that people are more at ease with a side hustle than in previous times is the increase in 'uncertainty' in the workplace, which makes people create their own path and not rely on a workplace to give regular income and career growth. Companies that used to offer steady 'life-long' careers are no longer offering a security that previous generations experienced."
Henley has set out a number of recommendations in its white paper to help businesses navigate the new economy. These include advising businesses to set up a formal policy on side-hustling within employment contracts and encouraging honest dialogue between employer and employee.