November 29, 2019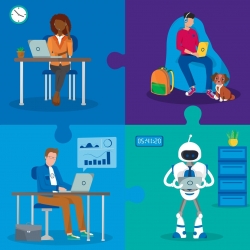 Following the recent Gartner study describing the unpreparedness of the HR function for the future of work, another report is exhorting managers to step things up. According to the KPMG International global Future of HR survey, close to 3 in 5 (57 percent) Human Resources executives believe that if their function doesn't modernise its approach to understanding and planning for the future needs of the workforce, it will rapidly become irrelevant within the modern organisation.
The report argues that while there is little doubt that HR functions generally are experiencing at least some level of adversity as they navigate through today's complex, ever-changing world,  some organisations seem to show a discrete pattern in regard to their areas of priority to tackle those challenges. The report calls this grouping Pathfinding HR.
According to Robert Bolton, Global Head of People & Change Center of Excellence and Partner, KPMG in the UK, "Pathfinding organizations are simultaneously building capability across four discrete areas. In our view, through these capabilities HR can chart a course into the future with confidence; shaping the workforce of the future in the face of digital disruption."
As per the research, the four capabilities are:
Shaping the workforce of the future: Pathfinding HR organizations recognize that existing workforce structures are being disrupted by new technology and business models. They are seizing the opportunity to reshape the workforce and gain the full benefits of humans and machines working together.
— Three-quarters of Pathfinding organizations (76 percent) agree that HR needs actively challenge what the future workforce composition looks like (who to buy, build, borrow, bot) in order to meet the future needs of their organization.
— 3 in 4 (74 percent) are also prioritizing upskilling of the workforce to manage the impact of Artificial Intelligence (and related) on the workforce.
Shaping a purpose-led culture: Pathfinding HR organizations understand that HR plays a vital role in shaping and maintaining a culture aligned with their business strategy.
— They are 6x more likely to "strongly agree" that they have a strategy in place to maintain the right culture for their organization (43 vs. 7 percent).
— They are 5x more `"strongly agree" that they have dedicated roles in HR that focus on purpose and culture (40 vs. 8 percent).
Designing the employee experience: Employees today want meaningful, rewarding work, on-demand customer service, and instant access to information. To meet those expectations, employee experience is on everyone's agenda, especially for Pathfinding HR organizations.
— 95 percent of all respondents are prioritizing employee experience as a focus area; and Pathfinding HR organizations were almost 3x more likely to "strongly agree" that employee experience is a strategic priority for the entire organization (64 vs.19 percent).
— Three-quarters of Pathfinding HR (75 percent) also have a strategy in place to design employee experience that mirrors and supports customer experience and rank design thinking as a top needed skill within the HR function.
Cracking the data code through workforce insight: Pathfinding HR organizations believe in the power of data science to generate actionable insights that create value for the whole organization – and are investing accordingly.
— Almost half (45 percent) rank data modeler/scientist within their top three roles to invest in over the next two to three years specifically within HR; they are almost twice as likely to invest in this role compared to their peers (45 vs. 24 percent).
— 35 percent are also planning to experiment with new technologies like AI within two to three years (vs. 20 percent of their peers).
Bolton adds, "We see an interconnected and mutually reinforcing logic to building capability in all four areas. Pathfinding HR organizations are tackling them all and this has an incredibly powerful and amplifying effect."
In 2020, the report claims to see a path forward for HR that requires some fundamentally new thinking about what HR does and how it is built to deliver. It argues that the power of the next generation isn't in pursuing discrete and disconnected capabilities, rather it is in creating a holistic and mutually reinforcing "whole system" approach to building the workforce (and organization) of the future.