July 6, 2022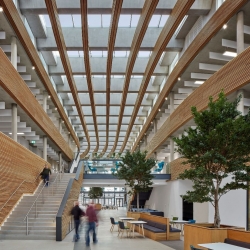 The pandemic has transformed how we think about and approach the workplace, with the majority of employees having alternated between remote and hybrid working over the last two years. While this experience has been almost universal, many have found this transition challenging – even for the established professionals used to adapting to change. But what does this mean for those about to enter the workplace for the first time?
For interns and graduates taking their first steps into the working world, the prospect of navigating the hybrid environment can appear a daunting task. From meeting colleagues face-to-face to fully adjusting to the office environment, interns can find it challenging to build those valuable relationships with colleagues and get fully 'up to speed' with the working world when remote.
With the majority of companies expected to adopt hybrid working models for the foreseeable future, how can employers support personal development in the hybrid working world, and equip people with the skills, knowledge and training needed to succeed?
With many graduates and interns faced with the prospect of coming into the office two to three days a week, it's likely that they will have concerns over missing out on crucial 'on the job' learning that is shared when teams are all in the office together. That's why employers must ensure that people are equipped with the collaborative and interpersonal skills needed to succeed in the hybrid workplace, while also providing enough support so they can navigate day-to-day working life.
Central to this is ensuring that graduates and interns are not concentrated in one specific business area, and are given the flexibility to work across multiple teams and projects during their placement. Employers may find that this can be challenging to implement in a hybrid format, but a good starting point is to identify which tasks can be carried out remotely or in the office, and establishing a rota to co-ordinate teams going into the office across different days. This will enable interns to gain valuable experience of working across different departments, while also encouraging them to learn from their team.
Moreover, as part of their development, it's critical that each intern is assigned a line manager at the start of their placement, and employers schedule check-ins on a regular basis. While this provides an opportunity for interns to raise any ongoing concerns, it will also allow managers to provide regular feedback on performance, and manage their wider expectations of the internship programme throughout the placement.
Building a wider network
 One of the challenges with the hybrid working environment is that team rotas may change each week, so interns could find it harder to form valuable connections with colleagues and build a larger network around the business. Employers must be cognizant of the fact that interns do not have prior relationships with colleagues to lean on or exposure to the wider business. So, they must empower interns to form those all-important connections around the company, and build a rapport with immediate team members.  
This can be as simple as organising an activity for interns one day after work, providing them with the opportunity to interact and socialise with others outside of the office environment. Not only does this encourage interns to get to know each other and their team on a more informal basis, but it helps to foster a sense of community across the wider intern cohort.
 Alongside forming close connections with other colleagues, networking around the wider company can also be an important part of an intern's career development, allowing them to immerse themselves within the organisation's culture. Setting aside time in an intern's calendar for a coffee with another member of staff can offer valuable insight into the day-to-day responsibilities of senior employees, providing career inspiration, but also creating an opportunity for an informal Q&A and to exchange advice.
Preparing for future employment
 Many companies require interns to undergo a rigorous recruitment process to ensure that they are a right fit for the business, and to increase the likelihood of retaining talent once the placement comes to an end. However, it can be difficult to assess whether they have enjoyed their overall experience at the company, and want to pursue a long-term career in the business or industry.
First and foremost, businesses need to help interns understand the value of the work they do and demonstrate there is purpose behind the role, so they are aware that they are making a meaningful contribution to the business. This means assigning important tasks from day one, and providing a sense of responsibility that they must deliver against. This will allow interns to see how their day-to-day contributions align with the company's wider goals and objectives, and in turn, motivate them to consider a career at the company beyond the internship period.
Furthermore, as a form of best practice, employers should always look to collect feedback from interns once their placement comes to an end. This provides them with the opportunity to give feedback on their internship experience and how they found working at the wider company, and can help identify specific areas for improvement in future programmes.
While adjusting to new ways of working has been challenging for both employers and employees alike, this also offers businesses an important opportunity to adapt their internship programmes in line with the demands and expectations of the hybrid working world. By providing the right support, training and opportunities to interns, employers can help prepare them for future employment- whether that's in their chosen industry or in another field. Ultimately, that's how a business builds a reputation as a valuable employer, and attracts and retains talent in the long-run.