September 9, 2021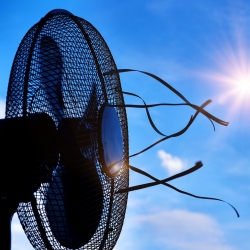 While lower occupancy has reduced the carbon footprint of many commercial office buildings amid the pandemic, higher CO2 emissions from hybrid working significantly outstrips these declines, according to data analysed by Cushman & Wakefield's sustainability team.
Using a proprietary algorithm that measures work from home energy consumption across a businesses' workforce, Cushman & Wakefield quantified the combined energy-related emissions produced by remote employees and commercial office buildings.
The algorithm was developed to understand how up to 30 – 50 percent declines in office energy consumption following the first lockdowns in 2020 were being redistributed to home workplaces.
The algorithm examines data points including the frequency that employees work from home versus in the office, their location and home type, home office settings, seasonal factors and geography (to account for a grid powered by majority coal or renewables) to calculate the resulting emissions.
Using the algorithm, Cushman & Wakefield modelled the impact for a large corporate with more than 30,000 employees nationally in the first quarter of 2021. The data highlighted there was a reduction of 2,500tCO2 in electricity emissions related to commercial office buildings but a rise in work from home emissions of more than 4,000tCO2.
That contributed to an overall uplift in emissions of 21 percent compared to the same quarter in 2019. For an organisation of this size, it equates to approximately an additional 13,000tCO2 per year offshored from Scope 2 to Scope 3 emissions.
"The reality is that hybrid working has become the norm in most corporate office settings"
The Cushman & Wakefield findings follow the release of the UN's first major assessment of global climate change in seven years that firmly placed the climate emergency at the centre of the global agenda, alongside the COVID-19 pandemic. In the report, the Intergovernmental Panel on Climate Change (IPCC) gave its starkest warning yet that new climate policy measures and reduced greenhouse gas emissions are now urgent for governments worldwide.
Cushman & Wakefield Head of Sustainability Australia, Rebecca Jinks, said: "Keeping the lights, heating or cooling on at home, in a far less efficient setting than the economies of scale than an office setting provides, is contributing to a real rise in emissions. This is something major companies and organisations have committed to reducing as part of their Science Based Targets, so can't be offshored."
"Just because your workers are consuming energy outside of the traditional boundaries of the office building, they're still required to do that work to keep business going, so the burden has simply shifted elsewhere. Under ESG principles, we needed to measure that burden as it's now material."
Cushman & Wakefield Head of Integrated Facilities Management, Jon McCormick, said: "The reality is that hybrid working has become the norm in most corporate office settings, led by employees' desire for flexibility and employers' focus on staff safety and wellbeing. That said, alongside collaboration and morale, the data suggests there will also be an environmental benefit of a broader return to offices around the country."
Read the full report here.
Image by Bruno /Germany