July 5, 2018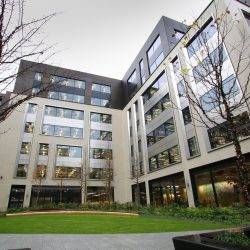 The International Facility Management Association UK Chapter has confirmed four new appointments to its Board of Directors, further strengthening its ties with the RICS FM Professional Group as part of the collaboration between what is claimed to be the world's two largest organisations representing the profession. Joining the IFMA UK Board are four members of the RICS FM Professional Group Board including Rory Murphy FRICS, Commercial Director at VINCI Facilities and RICS World Regional Board Member for UK & Ireland. Murphy is joined by Dennis Markey FRICS, Chief Executive Officer at Gen2 Property, Paul Bagust, Global Property Standards Director for RICS and Stephen Shallcroft FRICS, Director Corporate Real Estate at ARCADIS.
These new appointments mean that of the 11 Board Directors so far announced, six are RICS Fellows and seven are Chartered FM Surveyors. The new board represents a broad range of industry subject matter expertise and the directors will work together to enhance, evolve and expand the knowledge of facility managers in the UK, while also providing pathways to career success for professionals within the industry.
IFMA is the largest and oldest established facility organisation, and claims to be globally renowned for thought leadership in facility management and workplace strategy, while RICS has been active in the sector for more than 150 years and is the only body yet to offer Chartered status to FM professionals.
"I am delighted to welcome such senior and respected facility professionals to the IFMA UK Board" said Martin Pickard, Chapter President. "This shows just how serious we are to work in true collaboration with the RICS here in the UK to advance and promote the facility management profession."
The first official IFMA UK Chapter breakfast networking event is being held on 25 July, 08:30- 10:30, at RICS Parliament Square. The event will launch the RICS Procurement in Facilities Management Professional Statement. To sign up to this free event, visit – https://ww2.rics.org/uk/events/conferences-seminars/rics-ifma-procurement-in-facilities-management-event/
2018-19 IFMA UK Board of Directors
President
Martin Pickard FRICS FBIFM
Vice President
Antony Law
Immediate Past President
Dave Wilson FRICS, IFMA Fellow
Treasurer
David Emanuel
Secretary
John Horan MRICS CFM CBIFM
 Directors
Dennis Markey FRICS
Lucy Jeynes FRICS
Jo Sutherland
Paul Bagust
Rory Murphy FRICS
Stephen Shallcroft FRICS