November 9, 2023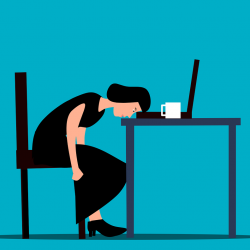 The workforce could lose millions of female employees unless more is done by employers to support women with menopausal and menstrual health symptoms, according to a new poll from workplace health provider Simplyhealth.? The research suggests almost a quarter (23 percent) of women have considered quitting due to the impact of menopause or menstrual symptoms at work, and over one in ten (14 percent) are actively planning to quit.
Working women report that symptoms related to women's health issues – including menopausal and menstrual symptoms – affected their mood at work (55 percent), their ability to concentrate (52 percent) and make them feel physically uncomfortable (46 percent), with two-fifths (40 percent) saying these symptoms affect their productivity.
Almost nine in 10 (87 percent) working women want their employer to be more supportive when it comes to women's health with around a third (31 percent) looking for flexible home working, a quarter (25 percent) wanting time off for healthcare appointments and a fifth wanting menstrual (20 percent) and menopause (18 percent) leave.
Data from the recently published CIPD and Simplyhealth Health and Wellbeing at Work report?suggests that just a quarter of employers have a menopause policy in place, however today's research shows less than one in 10 (9 percent) of women going through menopause work for a business that offers leave for this.
The report claims that more than two-fifths of employers say they offer planned flexible working (44 percent) as part of their menopause support compared with just 28 percent for menstrual health.
The CIPD's Menopause Workplace Experiences report 2023, which surveyed over 2,000 women aged 40-60, currently employed in the UK, showed that written policies and support networks are the most common forms of workplace support but flexible working and ability to control temperature are seen by women as the most helpful to manage menopause symptoms at work.
Acting on this could help the seven million women aged 40-60 in the UK workforce (according to the same report), the vast majority of whom will go through the menopause transition during their working lives.
Workplaces prioritising change
Workplaces are increasingly providing better menopause support. The Health and Wellbeing at Work report found that almost half of employers (46 percent) offer provision for those experiencing menopause this year, compared with 30 percent in 2022. Over a third (35 percent) of employers said they encourage an open and supportive climate where employees are able to talk about menstrual health issues.
According to Simplyhealth's new research among employees, the most common form of women's health support currently provided is free period products, however less than a quarter (23 percent) of women said their workplaces offered this. The CIPD report found 32 percent of employers said they did this.
Women also reported receiving on-site advice for women's health concerns (e.g. leaflets) (12 percent), educational talks (14 percent) and external health support e.g. health insurance or health plans (11 percent).
Around one in eight (12 percent) women reported there was training in place for managers to support employees with women's health issues, with almost two-fifths (39 percent) saying they are comfortable talking to their manager about their health issues.
Steps employers can take
CIPD has released guidance on how to best support employees managing menopause at work here. Recommendations include:
Develop a supportive framework and be clear on practical help that is available. This could include a specific menopause policy.
Offer a broad range of flexible working options to suit a variety of roles.
Offer employers the ability to control the temperature in the workplace
Make sure that absence management policies are fair and flexible.
Educate and train line managers so they are aware of menopause symptoms and organisational support.
Understand the value of simple adjustments to working environments such as ways to cool the workplace, easy access to cold drinking water and washrooms, and uniform adaptations.