April 21, 2022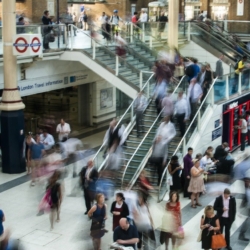 Future Forum, a consortium launched by Slack with Boston Consulting Group, MillerKnoll and MLT to "help companies reimagine work in the new digital-first workplace", has released the latest findings from its global Pulse study, which shows that employee experience scores are plummeting for knowledge workers who have been asked to return to the office full-time and for those who do not have the flexibility to set their own work schedules. More than a third of knowledge workers (34 percent) are now working from the office five days a week, the greatest share since Future Forum began surveying in June 2020. With this shift, employee sentiment has dropped to near-record lows, including 28 percent worse scores on work-related stress and anxiety and 17 percent worse scores on work-life balance (compared to last quarter).
There are signs that employers will pay a price for this discontent, according to the report's authors. Workers who say that they are unsatisfied with their current level of flexibility—both in where and when they work—are now three times as likely to look for a new job in the coming year.
The Future Forum Pulse is published quarterly and is based on a survey of more than 10,000 knowledge workers in the U.S., Australia, France, Germany, Japan and the U.K. Data from the Pulse shows that non-executives are facing far more strain during the return-to-office era than leaders in the C-suite, further widening the existing executive-employee disconnect on key job satisfaction measures. Non-executives' work-life balance scores are now 40 percent worse than their bosses, plummeting at five times the rate of executives over the last quarter. Non-executives are also reporting more than twice the level of work-related stress and anxiety as executives.
Employee experience scores fell for all knowledge workers, likely due to concerns and challenges related to the spread of the Omicron variant of Covid-19. But full-time office workers, who already ranked behind remote and hybrid employees on the eight key sentiment measures in the Pulse survey, posted the steepest declines on average, widening the gap with their flexible counterparts. This quarter, fully in-person knowledge workers reported:
2x as steep a decline in work-life balance, compared to flexible (hybrid and remote) workers
1.6x as steep a decline in overall satisfaction with their working environment, compared to flexible workers
1.5x as steep a decline in work-related stress and anxiety, compared to remote workers
The data suggests that the majority of workers who have been called back to their offices five days a week are returning reluctantly—55 percent say they would prefer to work flexibly at least part of the time. This gap between expectations and reality poses a looming challenge for employers who have mandated that employees return to the office. Knowledge workers who say their company does not allow flexible work are 20 percent more likely to look for a new job in the next year, compared to those who have the option to work outside of the office on a full-time basis.
For many women and working mothers, who often shoulder a greater share of caregiving responsibilities at home, the call to return to the office has only strengthened the desire to retain some degree of location flexibility. The percentage of women who say they want to work flexibly three days a week or more jumped to 58 percent this quarter, compared to 48 percent of men. Meanwhile, the number of working mothers who say they want at least some location flexibility rose to an all-time high (82 percent) since Future Forum began surveying.
Execs stay home
The Pulse data shows  that non-executive employees are nearly twice as likely as executives to be making the daily commute to the office. This discrepancy suggests that while many executives continue to work flexibly, for their employees the flexible work options that provided much-needed balance and relief have been clawed back. In light of this, it's unsurprising that the delta between executives and non-executives on key employee experience measures like work-life balance and work-related stress and anxiety has widened considerably since last quarter.
The data also suggests that employees' patience with ambiguous or delayed guidance from executives around what the future of work will look like at their company is wearing thin. Employees who say that their employer is not being "transparent about their future of work plans" are nearly four times as likely to say that they will "definitely" seek a new job in the next year. It may surprise employers to learn that employees who say their company does not have a policy on flexible work are even more likely to indicate that they will "definitely" try to change jobs than employees who say their company prohibits remote work.
Time more important than place
For many companies, return-to-office conversations have focused almost exclusively on the "where" instead of the "when" of work, overlooking the critical importance of schedule flexibility. Today, more than 9 out of 10 knowledge workers (94 percent) say they want schedule flexibility (compared to 79 percent who want location flexibility)—yet nearly two-thirds (65 percent) say that they personally have little to no ability to adjust their hours from a pre-set schedule, outside of the occasional doctor's appointment.
The report correlates this kind of schedule rigidity with significant adverse impacts on an employee's overall experience at work. Knowledge workers who say that they do not have access to flexible working hours report:
2.2x worse work-related stress and anxiety
1.7x worse work-life balance
1.4x worse burnout
Further guidance for leaders and data on the experiences and expectations of global knowledge workers can be found in the full Future Forum Pulse report.