June 13, 2022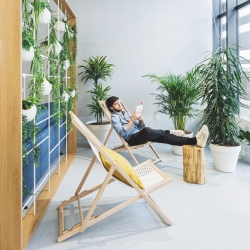 This year's World Workplace Europe saw 2022 hailed as the year of the worker. A worthwhile focus considering negative emotions are on the rise, with more depression, anxiety and loneliness plaguing society despite the claimed benefits of hybrid working. The pandemic robbed us of many things. It restricted our freedom for two years and forced us to live, love and work in a way that felt a little less human. But at least there was a sense of unity, working together for the common good, a mask-muffled cry of "all for one and one for all" as people considered how their actions would and could impact others.
As one crisis leaves the stage, another slithers into the spotlight – that is health and wellbeing, or more specifically the lack thereof. The onus is on the employer to ensure the level of attention people received during the pandemic does not lose momentum. Sadly, that dip is already happening, with Gallup's World Workplace session revealing only 24 percent of employees think their employers care about their wellbeing in this post-pandemic era. So yes, 2022 should indeed be the year of the worker. But what does that mean exactly?
Some would postulate hybrid working as the answer, which is less a work model and more an employer of choice proposition, stressed Harold Coenders, director of Colliers. As per Microsoft research, 66 percent of leaders are in favour of hybrid working, and 63 percent of high-growth companies are riding the hybrid high. It is here to stay, argued Coenders, but it's not an answer, nor a clear-cut solution. It's one facet of a mirror ball of shiny unknowns.
One of which is the long-term impact of moving so swiftly to a remote or hybrid working model that, let's face it, only became a 'thing' to help us navigate the biggest health and socioeconomic crisis of our times. Research suggests hybrid teams are more likely to work well and succeed if there are pre-existing relationships in place. Newly formed teams, on the other hand, don't fare as well.
And so, today's antidote might be tomorrow's poison. We are yet to find out.
The organisations that are riding the hybrid working high in the present day are at least the ones that – through their on-the-pulse and employee-centric workplace and HR strategies – facilitate different work preferences and lifestyles, while balancing individual and collective needs. The hybrid high workplaces celebrate diversity and togetherness. They also support cooperation and silence, facilitate community and connection, and put health and wellness first and foremost. The organisations that are getting it wrong today, let alone tomorrow, are trend-followers – that is, copying what everyone else is doing, or what they think everyone else is doing, with blind hope that it'll all work out in the wash.
New thinking
For these new times, there must be new ideas. "Baukultur" is one of the ideas that's certainly gaining traction – a German term for which there is no English equivalent but translates as the "culture of building". The concept considers any and every human activity that impacts experiences of a given built environment. It is about striving for the right balance between cultural, social, economic, environmental and technical aspects that serve the public interest, for the common good.
"Everyone, irrespective of background, has the right to experience, share and belong to a cultural environment," said Špela Spanžel, Acting Director-General for Cultural Heritage of the Republic of Slovenia. A line of thought workplace leaders in this current climate would do well to champion.
This approach goes beyond a 'nice to do'. In January 2018, the European Ministers of Culture adopted the Davos Declaration "Towards a high-quality Baukultur for Europe". It highlights pathways for politically and strategically promoting the concept of high-quality Baukultur, that is creating spaces to drive and support culture.
The Davos Declaration is based on two commitments. One is to implement better policies and decision-making practises, while engaging and reaching out to both private and public stakeholders, ensuring there is an equal mix of consideration and influence on all sides. The second is to work together in pursuit of the common good, and to demonstrate measurable and palpable impact.
Baukultur calls for new construction and existing infrastructure and public space to be understood as a single entity. There are eight principles:
governance
functionality – satisfying the human needs for health
environment – conserving natural resources and biodiversity to mitigate climate change
economy – cultural values and long-term investments over short-term gains
diversity – tapping into the emotional side of place-making, reflecting and promoting inclusive societies, encouraging mixed use where possible
sense of place – ensuring places have an identity in order to fulfil social, psychological and cultural needs
beauty – honouring the sensory perception and relationship between objects, spaces and people
quality of life
The Baukultur place-making and place-governance system is essentially a cultural act – to deliberately design for and by the people who will use the spaces. It is about dialogue, exchange, inclusivity, and celebration of our differences and commonalities. It is a process that requires professional and societal debate, a rethinking and reshaping of the world as we know it so that everyone can have a better time. An approach that, given the stresses and strains of life in 2022, could not go far wrong.
Image: Better offices in Ljubljana, designed by Kragelj