June 14, 2022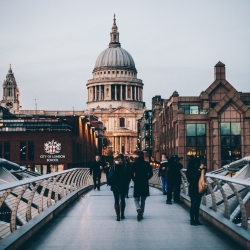 The Government's review into the future of computing and its new UK Digital Strategy were unveiled at the start of London Tech Week as the world's technology leaders, founders and next generation of tech superstars gather in the capital to collaborate on the future of the industry. Opening day speakers included Darktrace CEO Poppy Gustafsson, Darren Hardman, VP & General Manager, AWS, Theo Blackwell MBE in conversation with New York City's CTO Matt Fraser, Klarna CEO Sebastian Siemi?tkowski and The Body Coach CEO & Creative Director Nikki Wicks.
The event was opened by Chancellor of the Exchequer Rushi Sunak with an announcement of the review into the future of advanced computing. He said: "One technology that will become ever more critical in the years to come is advanced computing. The extraordinary power of the next generation of super computers will change every aspect of our economy. So I'm delighted to announce today a new review into the future of computing. Led by Professor Zoubin Ghahramani, AI Professor at the University of Cambridge and Director of Google Brains, it will report later this year with new recommendations on how we can deliver the UK's computing needs not just this year but for decades to come."
The new UK Digital Strategy launched at London Tech Week sets out to bring "cross-government tech and digital policies together in one unified roadmap for ensuring digital technology, infrastructure and data drives economic growth and innovation in the coming years. The plan will lead to new jobs, skills and services that benefit and level up the whole of the UK, according to the government.
It plans to bring tech leaders together in a new Digital Skills Council to tackle the skills gap and a review of the UK's large-scale computer processing capabilities, vital for powering technologies of the future such as Artificial Intelligence.
Tech hubs
New data released by the UK's Digital Economy Council revealing that UK tech startups raised £12.4 billion in venture capital funding in the first five months of this year, more than in the whole of 2020 (£12 bn), and putting the UK second to the US and ahead of China, India and France. Bristol and Oxford both ranked in the top 20 European tech hubs for funding this year, according to the data provided by Dealroom. The UK is home to 122 unicorns, private companies with a value of more than £1bn, it found.
Secretary of State for Health and Social Care Sajid David also addressed London Tech Week's HealthTech Summit this afternoon to launch a new digital strategy – Data Saves Lives: Reshaping Health and Social Care with Data – focusing on seven principles to harness the data driven power and innovation seen during the pandemic to drive transformation in health and care, creating a secure and privacy preserving system which delivers for both patients and professionals.
He said: "We are embarking on a radical programme of reform that will make sure the NHS is set up to meet the challenges of 2048 – not 1948, when it was first established. Earlier this year I set out a range of stretching targets for digital transformation in health and care, and we're making great progress. This landmark document will look at how we can build on this momentum and apply the lessons challenges ahead of us, including tackling the Covid backlog and making the reforms that are vital to the future of health and care. It shows how we will use the power of data to bring benefits to all parts of health and social care."
Tech journalist and broadcaster Georgie Barratt hosted a fireside chat with unicorn founders Martin Villig, Co-Founder & VP of Sustainability, Bolt and Taavet Hinrikus, Co-Founder & Chairman, Wise. During the session a new world record in company incorporation was created when Austrian entrepreneur and Estonian e-resident Dominik Panosch set up his Estonian business in under 15 minutes.
London Tech Week was also opened with an announcement from Amazon Web Services (AWS) that it is launching the new AWS FinTech Accelerator in the UK. Startups across the UK will be invited to apply and participate in the six-week programme that will give access to AWS cloud technology and credits, as well as mentorship, training, connections, and the technical guidance necessary to build both innovative solutions in the cloud, and successful companies
And Mayor of London Sadiq Khan hosted an international welcome reception at London Tech Week today. He said: "London is the undisputed tech and innovation capital of Europe and is also one of the most diverse and vibrant ecosystems in the world. The record levels of investment we've seen so far this year offers further proof that London's tech sector continues to go from strength-to-strength. I'm looking forward to welcoming the global tech community for this year's London Tech Week, a great opportunity for us to strengthen partnerships across the world and build a better London for everyone."
The key themes for the week include:
Exploring the next tech frontiers
Visions of Web3
Work, life and play in the metaverse
Transformative tech shaping our next decade
Delivering impactful innovation at scale
ClimateTech and the battle to save our planet
HealthTech: enabling healthier, happier, longer lives
Creating a more inclusive and sustainable word
Building a thriving UK tech industry
Fuelling entrepreneurship to drive growth
Scaling businesses in the UK
Creating an accessible, inclusive ecosystem
Getting tech governance right
Other events to take place at London Tech Week include:
Tuesday 14 June: The launch of EQL:Pledge, a global campaign to increase funding for underrepresented founders, including women, people of colour, the LGBTQIA+ community, people with refugee status, people from a lower socio-economic status and people living with disability. This will be launched by D,E&I campaigner and broadcaster June Sarpong OBE. EQL:Pledge has the support of Former United States Secretary of State Hillary Rodham and Cherie Blair, QC, CBE, Founder Cherie Blair Foundation.
Tuesday 14 June: Innovation policy advisory and research firm, Startup Genome, and the Global Entrepreneurship Network will launch the 2022 Global Startup Ecosystem Report (GSER). Now in its 10th year, the GSER is the world's most comprehensive, data-driven research on startups with 280+ entrepreneurial innovation ecosystems, rankings of the leading 140 ecosystems, and 3 million startups analysed. Contact bpattie@londonandpartners.com for more information
Wednesday 15th : DCMS will make an announcement with Tech Nation looking at job creation, skills and development in UK tech. Contact for press release and more information: Amelia Heathman, amelia@burlington.cc
Thursday 16th: DCMS will be announcing frontier tech news, exploring the UK's strength in creating and nurturing startups in blockchain, the metaverse, and more. Contact for press release and information: Amelia Heathman, amelia@burlington.cc
Friday 17 June: Here East will host the official closing ceremony for London Tech Week. Entrepreneurs, industry leaders and policymakers will examine the growth opportunity for companies combining digital innovation with the creative arts. 10 years after London 2012, the event will also include the formal launch of Shift, a new innovation district on Queen Elizabeth Olympic Park. Contact for more information: jack.davies@wearesevenhills.com.