April 16, 2020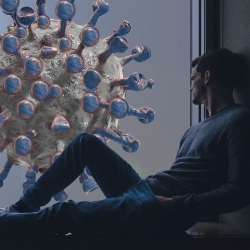 The effects of isolation and stress from the coronavirus pandemic could be having an extremely profound effect on people's physical mental health – now and in the future, say a group of prominent psychiatrists and psychologists writing in the The Lancet Psychiatry journal.
"A major adverse consequence of the COVID-19 pandemic is likely to be increased social isolation and
loneliness, which are strongly associated with anxiety, depression, self-harm, and suicide attempts across the lifespan," they write. "Tracking loneliness and intervening early are important priorities. Crucially, reducing sustained feelings of loneliness and promoting belongingness are candidate mechanisms to protect against suicide, self-harm, and emotional problems."
They say support would need to be tailored to specific groups, especially to the vulnerable such as children and front-line health workers.
The authors are also calling for widespread real time monitoring of the mental health of the population so that effective tools and support can be designed quickly to help people at home. They claim doing nothing risks a rise in conditions such as anxiety and depression, and more people turning to alcohol, drugs and gambling, as well as other consequences, such as homelessness.
The paper's authors said the priorities should be to monitor rates of anxiety, depression, self-harm, suicide and other mental-health issues. Smartphones should be used to monitor mental health in real time.
"The digital response is crucial, not only because of social isolation measures but also because less than a third of people who die by suicide have been in contact with mental health services in the 12 months before death," the paper argues "Digital interventions for anxiety, depression, self-harm, and suicide include information provision, connectivity and triage, automated and blended therapeutic interventions (such as apps and online programmes), telephone calls and messages to reach those with poorer digital resources (digital poverty), suicide risk assessments, chatlines and forums, and technologies that can be used to monitor risk either passively or actively.
"There is an urgent need for the discovery, evaluation, and refinement of mechanistically driven interventions to address the psychological, social, and neuroscientific aspects of this pandemic. This includes bespoke psychological interventions to boost wellbeing and minimise mental health risks across society.
"In these challenging times, mental health science should be harnessed to serve society and benefit both mental and physical health in the long term"
Image by Gerd Altmann