June 12, 2018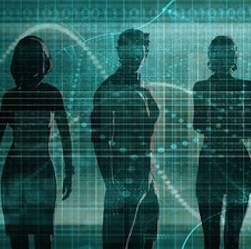 A new Gallup report reveals the growth of AI is not seen as a disadvantage for employees. The real problem is lack of emotional intelligence in management, with managers failing to move beyond the role of "task manager" and adopt the coaching perspective they need in order to future proof the workforce. The Real Future of Work study interviewed 4,000 working adults in the UK, France, Germany and Spain to understand how employees are being managed and the subsequent impact this might have on the future. Worryingly, one in four UK employees say they only receive performance feedback from their manager once a year or less, a further 20 percent claim it's only a "few times a year". Almost one in five (19 percent) UK workers predict technology will increase the risk of losing their job – the highest in the European countries surveyed and more than double those concerned in Spain. When asked how technological changes will influence work in the next three years, seven out of ten workers in the UK felt it will increase their productivity followed by France (66 percent), Spain (51 percent) and Germany (37 percent).
Some of the other main findings of the report include:
Feedback failure: 20 percent of UK employees receive feedback from their managers just once a year or less often.  It's no great surprise 89 percent[2] of employees are not engaged or actively disengaged at work.
Focused on weakness: 47 percent of UK employees claim their managers focus on building weaknesses and not strengths during performance discussions. This is third highest in the European markets examined.
False goals: Almost one in five (19 percent) UK employees do not believe their performance goals are connected to the organisations. A further 13 percent feel they are given goals that are completely out of their sphere of control.
Motivated by management: Just one in four UK employees strongly believe their performance is managed in a way that motivates them to do outstanding work, the highest level reported in Spain (30 percent).
No reason to stay:Just a third of UK employees believe there are opportunities for growth with their existing employer, the lowest level reported in Europe. In Germany, this figure almost doubles to 60 percent.
Managers are too focused on negatives
The report suggests that managers are failing to move beyond the role of "task manager" and adopt a coaching perspective. Only through an appreciation of who employees are as people and what they need to be engaged can a manager be effective. In particular, the study found a distinctly old school approach to handling performance reviews, with many managers across Europe choosing to focus on improving workers' weaknesses over building on their strengths.
According to UK respondents over two fifths (47 percent) felt their performance discussions focused more on weaknesses and 53 percent on strengths.  The situation is worst in France where two thirds of French employees (66 percent) said their managers spend almost twice as much time discussing weaknesses. German managers appeared to be most progressive with 65 percent of workers stating that their discussions focused on building strengths.
Maria Semykoz, Workplace Analytics Architect at Gallup commented: "A future proofed workplace, ready for artificial intelligence, requires managers that understand the psychological needs of workers. With so few employees claiming they are managed in a way that motivates them to do outstanding work, there is clearly an elephant in the boardroom that must be addressed in order to turn around sliding productivity levels."
Opportunities to progress in the UK are lowest in Europe
Retaining talent can largely depend on growth opportunities with the business. The report found that workers in the UK painted the bleakest picture, with less than a third (32 percent) of them recognising opportunity with their current employer. This is half the amount of their optimistic German counterparts (60 percent) followed by France (42 percent) and Spain (35 percent).
Added Semykoz: "To date, Future of Work reports have not focused enough on the psychological needs of employees. Leaders need to know more about how employees will respond to the demands of emerging business realities — and how corporate strategies should adapt accordingly."