January 20, 2022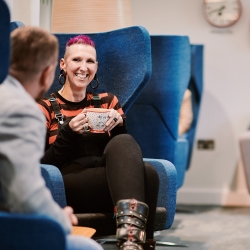 Around two thirds of professionals say they are 'highly likely' to leave their job this year due to a lack of face time with leaders within their organisation. Following the announcement yesterday from Government that working-from-home restrictions will be dropped, an annual employee survey from recruiter Robert Walters claims to reveal the potential damage of upholding remote leadership in 2022. Results from survey suggest a correlation between a decrease in output and morale for professionals who claim they see their manager (face-to-face) less than once a week.
Both output and morale steadily increased for professionals who spent more days in the office with their manager. Nearly half of professionals stated that fewer meetings and less face time with their manager has led to a dip in their output. In fact, when asked how often professionals speak to their line manager when working from home, 22 percent stated that they "don't really communicate with manager when working from home" – up from just 3 percent who stated the same at the beginning of the pandemic.
A third of managers have permanently adopted a new management style post-COVID, in favour of holding catch-ups (both formal and informal) with their staff over the phone or via video call – rather than in person.
Many professionals believe that this increasing lack of contact with their line manager has resulted in them being overlooked for new opportunities (44 percent), progression (37 percent), and training (26 percent).
The survey also found that 62 percent of professionals would be 'put off' a new job offer not delivered in person (F2F or video call) – with a generic email (57 percent), voice call (33 percent), or a voicemail being the leading approaches that would put prospective candidates off.
Over three quarters (77 percent) of professionals believe that prospective line managers should be the one presenting a job offer to a candidate – rather than HR – with a further 45 percent stating that it is important that they are invited to a team lunch or social within the first week of starting their new job.