February 17, 2019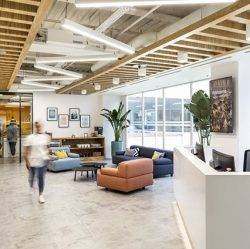 Hammocks, remote working, hot-desking. Contrary to common belief, these aren't the only conversations landlords are having with designers on how to approach their workspaces for today's tenants. Rising property values, the growth of flexible offices and political uncertainty have forced landlords to change the way they market their properties to respond to the demands of occupiers. And with no sign of London's commercial office marketplace calming in the near future, the need for landlords to remain flexible and create channels of communication with their tenants, remains strong.
The power shift
The landlord and tenant relationship has changed. Not too long ago, the tenant was at the landlord's mercy, but thanks to the rise in flexible working and serviced office providers, tenants are now in the driving seat, enjoying greater choice and shorter leases to retain flexibility and attractive rent options.
The demand for flexibility comes not least because the UK is a nation of SMEs – they represent 99% of all UK businesses and, in London, they account for just over half of all private sector jobs. These companies want the freedom to be agile, especially in a time of uncertainty.
Market response
With all this market change, comes the need for change in how workplaces are designed, for both the landlord and tenant. A concept pioneered by our industry to respond to the shift in the market is Cat A+. This model represents a middle ground between Cat A – an empty space finished to an industrial standard, typically implemented for a landlord who wants to market a blank canvas, and Cat B – a full refurbishment of an existing workspace, instructed by the tenant.
The Cat A+ model is driven by a landlord but almost as comprehensive in design as a tenant's fit-out instruction might be. It eliminates the need for rent-free periods and offers a 'plug and play' space with full functionality, including data fibre and cabling. This provides an alternative solution to businesses, especially SMEs, that may not have the budget for a high-tech office renovation, and for which co-working or flexible offices may previously have been the only options.
Although Cat A+ requires more up-front investment from the investor, developer or landlord, this new model eliminates the need for rent-free periods because the space is ready to go from day one. Another benefit of this approach for both parties is, at the end of the tenancy, dilapidations becomes easier, cheaper and far less contentious. It's also less wasteful as there's no need to remove everything and return the space to a blank canvas.
In action
Cat A+ is gaining in popularity. Fund Manager, Columbia Threadneedle Investments recently applied the Cat A+ concept across its portfolio, following a successful leasing of its Copthall Avenue property, which pioneered ThirdWay Interiors' Cat A+ design.
David Dalrymple, Asset Manager at Columbia Threadneedle Investments comments on the change of tenants' needs: "We are attracting tenants who are seeking independence and more identity as their businesses mature; some of which are wanting to move away from co-working and traditional serviced offices into their own space. However, many are not in the position to fund a refurbishment or simply do not want the hassle of designing and managing their own fit-out, so we are well positioned in offering our Cat A+ turn-key solution. Our tenants benefit from the plug and play setup that a co-working space could have provided but they don't have to share their meeting rooms, breakouts or front door with anyone else."
New levels
The level in which commercial real estate specialists understands their tenants is changing. A current example of this is MYO – launched by Landsec. MYO approaches flexible working differently, solely focusing on the customer and encouraging its individual and creative spirit, whilst offering tenants WeWork-style all-inclusive leases. From offering a selection of fit-outs to supporting them with the small things like IT problems, they have the tenant front of mind and allow them to focus on what's most important, their business. By providing tenants the reassurance of a big company with the flexibility of a start-up, MYO is set to disrupt the flexible office marketplace even further. Their first project in Victoria, in collaboration with Soda and ThirdWay Architecture, is set to open in April.
In order to better understand how people use working spaces, landlords are also seeing to leverage technology platforms to capture their tenants' behaviours within the buildings. An example of this is a recently launched platform, We Are Savvy, which focuses on helping landlords improve the tenant experience within buildings by the creating vertical communities based round a provision of services.
The proptech app enables landlords to analyse and react to occupier changes and facilitate the smarter, more efficient use of space for businesses, whilst delivering an enhanced customer experience. The combination of smart building analytics and a community platform, provides landlords with an intelligent tool that can understand occupier behaviours, allowing them to react to their needs. A win win situation for both the landlord and tenant.
Whilst savvy landlords are responding to these market changes, ultimately, the pressure is on them to innovate in order to to maintain a competitive edge, compete with flexible office providers, and attract and retain tenants.